Otto Putland trial: Commonwealth swimmer cleared of rape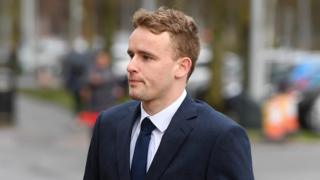 A Commonwealth Games swimmer has been cleared of raping a woman after a night out in Cardiff.
Otto Putland, 24, who represented Wales at the 2014 Games in Glasgow, had denied forcing himself on the woman after she had sex with his friend, Olympic swimmer Ieuan Lloyd.
A jury at Cardiff Crown Court took just two hours to unanimously clear him of rape.
Mr Putland, of Dinedor, near Hereford, told the court the sex was consensual.
The court previously heard the woman went to Mr Lloyd's house in July 2015, after spending most of the evening with him at a nightclub, and they had sex.
The woman claimed Mr Putland arrived at the house later and forced himself on her despite her saying "no".
But Mr Putland insisted the sex was consensual and told the jury the woman had been "flirtatious and happy" when talking to him beforehand.
Giving evidence, Mr Putland said: "She was fine until shortly afterwards and she said something along the lines of 'I feel like I have been passed around' or something like that.
"I said we hadn't passed her around."
Mr Putland represented Wales at the 2014 Commonwealth Games in Glasgow, where he competed in freestyle, backstroke and medley swimming events.