Oscars 2018: Host Jimmy Kimmel takes aim at Harvey Weinstein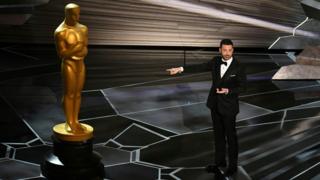 Oscars host Jimmy Kimmel aimed barbs at Harvey Weinstein at the first Academy Awards since Hollywood's sexual harassment scandal unfolded.
Opening the Oscars, Kimmel said: "The Academy took action last year to expel Harvey Weinstein from their ranks.
"There were a lot of great nominees, but Harvey deserved it the most."
But unlike at the Baftas and Golden Globes, where stars wore black as a show of defiance and solidarity, there was no such dress code at the Oscars.
Oscars winners and reaction

Weinstein statue appears in Hollywood ahead of Oscars

Is #meToo changing Hollywood?
Weinstein is facing multiple claims of rape, intimidation and sexual harassment. The Oscar-winning producer has denied all allegations of non-consensual sex against him.
Near the start of his opening monologue, Kimmel joked about the reputation of men in Hollywood.
Pointing at a life-sized Oscars statuette, he said: "Oscar is the most beloved and respected man in Hollywood, and there's a very good reason why. Just look at him.
"Keeps his hands where you can see them, never says a rude word, and most importantly, no penis at all. He is literally a statue of limitations, and that's the kind of men we need more of in this town."
The US talk show host said the downfall of Weinstein, and the reforms that had begun since, had not come soon enough.
"What happened with Harvey and what's happening all over was long overdue," he said. "We can't let bad behaviour slide any more. The world is watching us."
Kimmel attempted to balance gravity with humour in his remarks about how Hollywood was attempting to put its house in order.
"We need to set an example and the truth is if we are successful here, if we can work together to stop sexual harassment in the workplace, women will only have to deal with harassment all the time at every other place they go," he said.
Skip Twitter post by @nprmonkeysee
It sort of flew by, but I really thought Kimmel handled that monologue very well. Light, but not pretending the last six months — or the last gazillion years — didn't happen or can't live alongside a celebration. #Oscars

— Linda Holmes (@nprmonkeysee) March 5, 2018
End of Twitter post by @nprmonkeysee
Skip Twitter post by @ThePerezHilton
Jimmy Kimmel is being especially ruthless this year – in a totally honest and funny way! #Oscars

— Perez (@ThePerezHilton) March 5, 2018
End of Twitter post by @ThePerezHilton
Skip Twitter post by @clapifyoulikeme
What if instead of having Jimmy Kimmel be self-deprecating and talk about #MeToo they had just….had a woman host? #Oscars

— Abby Spice, 🐉 Mama (@clapifyoulikeme) March 5, 2018
End of Twitter post by @clapifyoulikeme
Referring to The Shape of Water, in which a cleaning lady falls in love with a mysterious river creature, Kimmel joked: "We will always remember this year as the year men screwed up so badly that women started dating fish."
Weinstein has been one of the dominant figures at the Oscars over the past two decades, producing winning films like Shakespeare in Love and The King's Speech.
He may not have been at this year's ceremony, but some of his accusers were.
They included Salma Hayek, who said on the red carpet: "Here we are to celebrate the fact that women will not have to struggle as hard together. I know that future generations will have it easier."
Mira Sorvino and Ashley Judd, who were among the first to accuse Weinstein of sexual harassment, sent an optimistic message as they spoke to US TV network ABC.
Judd said women's voices had been "squelched" in the past, but that they were emerging as "phoenixes".
"What's so spectacular about this moment is that finally the world is able to hear," she said.
"Those of us who have come forward were often then disbelieved, minimised, shamed, and so much of the movement is about putting that shame back where it belongs, which is with the perpetrator."
'We're going forward'
Sorvino said: "I want people to know that this movement isn't stopping. We're going forward until we have an equitable and safe world for women…
"We want to take our activism and our power into action and change things for every woman everywhere working in any workplace."
They were supporting the Time's Up movement, which has raised $21m (£15.2m) to fund legal support for victims of sexual misconduct in all walks of life.
Although there was no all-black dress code, some guests did wear Time's Up badges in support of the campaign.
---
Follow us on Facebook, on Twitter @BBCNewsEnts, or on Instagram at bbcnewsents. If you have a story suggestion email entertainment.news@bbc.co.uk.