Oscars 2018: Female-led Oscar films 'rake in most cash'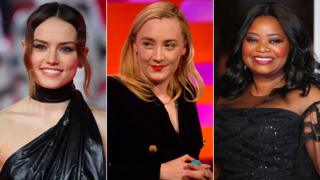 Oscar-nominated films with a woman in the starring role are more profitable than their male-led counterparts.
Female-led films earn higher box office returns – despite usually lower production budgets, according to BBC analysis.
On average, every dollar invested in a female-led film earns back $2.12 (£1.53). For male-led films this figure is $1.59 (£1.15).
Just 28% of films nominated for an Oscar since 2013 have had an actress taking top billing.
"Women are not bad box office, on or behind screen," says Kate Kinninmont, head of Women in Film and Television UK.
Oscar-nominated films with a clearly definable female lead were 33% more profitable than male-led films, when comparing US box office and production budget.
This data, collated from Internet Movie Database, excluded documentaries and short films. The study looked at 155 films for which data was available, dating back to 2013. Distribution and promotional costs were not factored into the analysis.
The results don't just apply to the US box office but figures from the States were used rather than those taken globally as more complete data for US figures is available on IMDB.
The female star boost isn't just an Oscars phenomenon.
Last year was a bumper one for female protagonists, and the first time since the 1950s the top three highest-grossing US films all had female leads: Star Wars: The Last Jedi, Beauty and the Beast and Wonder Woman.
And it appears these are part of a larger trend.
Among 2017's 100 top-grossing US films, those with a female lead earned back more on their budgets – led by The Last Jedi starring Daisy Ridley, which made $618.3m (£442.7m).
This is partly driven by box office returns that are 7% higher on average than their male-led counterparts, but to a greater extent because the majority of female-led films have significantly lower budgets.
Number of leading ladies in film falls

Was 2017 a tipping point for women in Hollywood?

Is it still a man's world behind the camera?
The average production budget shrinks by 20% when a woman has the starring role.
Hollywood's perception that "women won't bring in the same amount of money" is hard to change, says Kinninmont.
Men 'better bet'
Even in crowd scenes, research from the Geena Davis Institute has shown the average breakdown is just 17% women.
"When it comes to finance and money, men have been seen as a better bet."
"If it was acknowledged that there is a big audience out there for films led by women and made by women, gender could stop being such an important economic marker. We could just have the best people making films and starring in them," she says.
For every dollar invested into Oscar-nominated films during the last five years, 76 cents went to films with a male lead.
The Academy Awards have previously been criticised for their lack of diversity, notably in 2015, when all 20 nominees in the acting categories were white and there were no female nominees for direction or writing.
A 2017 study from San Diego State University found women made up just 18% of key roles behind the camera, including directors, writers, producers, executive producers, editors and cinematographers.
"We have got to be reflecting real life on screen, and that goes for every kind of diversity," concludes Kinninmont.
Note on methodology:
Films have been counted as female-led where a female actor had the first starring name on Internet Movie Database (IMDB). The analysis was done by comparing production budges and US gross box office figures obtained from IMDB for all Oscar-nominated films from the last five years, excluding documentaries and short films that don't have lead actors in the traditional sense. Other costs like distribution and promotion have not been factored in. Films without production budget listed were also excluded from the analysis, leaving 155 films.
---
Follow us on Facebook, on Twitter @BBCNewsEnts, or on Instagram at bbcnewsents. If you have a story suggestion email entertainment.news@bbc.co.uk.