Opening the Quad Summit, Biden reiterates that we are in a "dark hour" due to the Russian invasion of Ukraine
The President of the United States attended the Quadrilateral Security Dialogue (Quad) Leaders' Summit in Tokyo this Tuesday, along with the leaders of India, Australia and Japan, and reiterated that this was a "dark hour" in the "History is divided" by nations.
"Russia's brutal and unprovoked war against Ukraine has unleashed a humanitarian catastrophe. Innocent civilians were killed in the streets and millions of refugees were internally displaced and exiled. This is more than a European problem, it's a global problem," he said. said Biden in his opening speech, according to the US broadcaster CNN.
The Quad was formed after the 2004 Indian Ocean tsunami to coordinate humanitarian and disaster relief. The Quad is a regional association dedicated to promoting a shared vision of a "free and open Indo-Pacific" through collaborative practice across diverse challenges.
Specifically, there are six senior-level working groups dealing with, among other things, the COVID-19 response and global health security, climate or critical and emerging technologies, and the Russian invasion of Ukraine, the white said in a statement transmitted A house.
Labor leader Anthony Albanese was sworn in as Australia's prime minister on Monday and hours later attended the summit on behalf of Canberra, for which Biden has joked, pointing out that nothing happens if his counterpart falls asleep
"My government is committed to working with your countries and we are committed to the Quad," Albanese said, adding that from Canberra they are trying to "build a stronger and more resilient Indo-Pacific region through better energy, economy, cyber and better health and environment.
Albanese stressed to summit leaders that Australia's new executive will take ambitious action on climate change in line with the summit's agenda. Australia in particular has a target of reducing emissions by 43 percent by 2030 and staying on track to net zero by 2050.
"We have had a change of government in Australia but Australia's commitment to the quad has not changed and will not change. And our commitment to the Association of Southeast Asian Nations (ASEAN) and its centrality hasn't changed either," he said.
Albanese has indicated that they have promised to focus more on Southeast Asia, including appointing a special envoy for the region and $470 million in additional foreign aid over the next four years.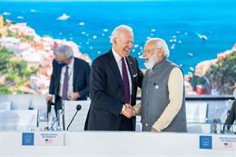 Biden will try to distance the Indian PM from Chinese and Russian influence during the Quad Summit
The Australian Prime Minister has noted that he is trying to deepen defense and maritime cooperation. "We will devote more energy and resources to securing our region as we enter a new and more complex phase in the Pacific strategic environment," he said.
For his part, Japanese Prime Minister Fumio Kishida agreed with his American counterpart, pointing out that "a situation has arisen that has fundamentally shaken the international order based on the rule of law".
Kishida has stressed that Russia's invasion of Ukraine was carried out in spite of the principles set out in the UN charter. "Don't do the same thing with a frontal challenge in the Indo-Pacific region," he warned.
"Due to this difficult situation, it is extremely important for us to come together and show the international community a strong commitment to the solidarity of the four countries and the shared vision of a 'free and open Indo-Pacific,'" he said.
In addition, as reported by the NHK Network, Prime Minister Kishida has indicated that "collaboration that helps solve" the challenges in the region, led by China and North Korea, is needed.
Modi and Biden will be the main protagonists of a meeting that will be "a continuation of the ongoing talks on the different perspectives of the panorama in Ukraine," as puts it by American National Security Advisor Jake Sullivan, who accompanies Biden on the outing.
The Indian government has maintained a cautious stance in the face of Russia's invasion of Ukraine and, following China's line, has opted for the path of dialogue rather than sanctions, a stance Biden described as a bit "shaky" at the time.
For his part, and in the official announcement of his trip, Modi has limited himself to describing his visit in general terms, although he has shown willingness to discuss with Washington "greater consolidation of bilateral relations and dialogue on regional developments and current problems" globally.