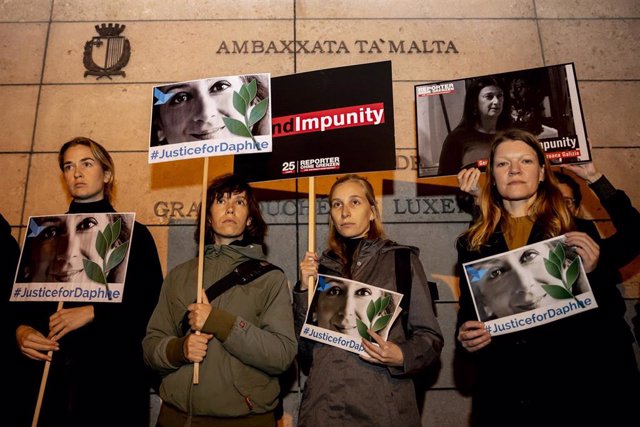 A group of protesters spoke in Berlin against the attack that ended the life of Maltese journalist Daphne Caruana Galizia after reporting cases of corruption in the Government of her country. – Christoph Soeder / dpa – Archive
LA VALETA, Nov. 25 (Reuters / EP) –
The man who was arrested for allegedly being involved in the attack that ended the life of journalist Daphne Caruana Galizia has received the presidential pardon, as promised in case he provided information about the intellectual author, they communicated this Monday Maltese police sources.
According to investigators, the man, who responds to the name of Melvin Theuma, contributed during the interrogations "solid evidence" that could be used to try to imprison the person who ordered the murder of the investigative journalist, whose work had uncovered a series of corrupt them within the Government of Joseph Muscat.
On October 16, 2017, Caruana Galizia suffered a car bomb attack that ended her life. The attack shocked the public opinion of the island and put the Government of Muscat in a very delicate situation, having to repeatedly deny the innocence of two members of his cabinet in the crime of the journalist.
To date, three men have been sent to prison accused of transporting and handling the explosive material that was used for the attack, but the authorities still do not find who they believe gave the order.
Theuma was arrested on November 14 accused of money laundering, a crime that would be commuted if he offered relevant information that he could find with the intellectual author of the attack on the journalist. A day later, it was businessman Yorgen Fenech who ended up being arrested for his alleged relationship in the case.
Fenech is a leading businessman of the island, owner of a consortium of companies, which in 2013 won a public tender to build a gas station. In 2018 it was made public that he was the owner in addition to a company in a tax haven, which allegedly made secret payments to Muscat's chief of staff, Keith Schembi, and Tourism Minister Konrad Mizzi.
Caruana Galizia wrote about them months before she was murdered, as well as the Minister of Economy, Chris Cardona, who testified before the Police last Saturday denying any relationship with the attack, just as Schembi and Mizzi already did.