Ollie Hynd: Paralympic swimming champion 'heartbroken' over classification switch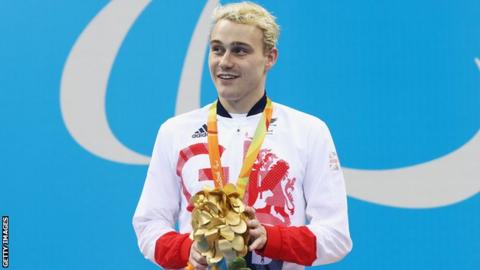 Great Britain's three-time Paralympic swimming champion Ollie Hynd says he is "heartbroken and confused" after having his classification changed by the International Paralympic Committee.
The 23-year-old, who has won European, world and Commonwealth titles, will now swim against less-impaired swimmers.
New IPC rules require all Para-swimmers to undergo international classification before the Tokyo Paralympics in 2020.
"It is clear there are winners and losers to the new processes," he said.
"Over the next few weeks both myself and the great team around me will be focusing on the performance framework that will give me continued success to Tokyo 2020 and beyond."
Hynd's GB team-mates Jonathan Fox, Matt Wylie and Jacob Leach also had their categories changed but will be reassessed later this year.
The quartet were among 12 Britons tested at the Para Swimming World Series event in Denmark.
The testing involved assessments both in and out of the water, plus analysis during competition racing.
'It's clear there will be challenges with this'
Hynd, who has a degenerative muscular condition, went through the process earlier this week and was moved from the S8 class, which he has been in since his international debut in 2011, to S9.
He won gold in the SM8 200m individual medley at the 2012 and 2016 Paralympics and also won the S8 400m freestyle two years ago in Rio.
His best times from 2017 in the freestyle and the medley would put him third and fourth respectively in the S9 rankings for last year.
After a protest by British Swimming, he was re-assessed on Saturday, but the initial decision was upheld.
While British Swimming has an option to appeal against the decision to the IPC, it means Hynd will now have to compete in the S9 category, although he remains an SB8 swimmer in breaststroke events.
"It is clear that there will be challenges with this and we won't know the full worldwide implications until maybe next year," said British Swimming Paralympic performance director Chris Furber.
"However, we welcome anything which brings greater consistency to the classification process.
"We've reacted to the IPC asking for help in a positive way by putting our swimmers through classification at the first opportunity. We don't want to see us penalised for doing that."
Wylie, 21, who won S9 50m freestyle gold in Rio, has cerebral palsy and restricted movement in his leg after a bone tumour as a child. He has been moved to the S10 category.
Fox, 26, who also has cerebral palsy and is one of the most-experienced members of the team having made his major international debut in Beijing in 2008, has been moved up to the S8 category from S7.
Teenager Leach, who was due to make his major international debut at last year's World Championships in Mexico before it was re-arranged, changes to S9 from S8.
"British Swimming's priority remains providing the best possible support to the swimmers who have shown incredible levels of professionalism under very difficult circumstances," a statement from the association read.
"Classification remains the cornerstone of Para-sport competition. British Swimming continues to work closely with the IPC and fully support appropriate and consistent classification."
It is unclear whether Hynd will be able to race at next month's Commonwealth Games where he, as well as Fox and Leach, have been selected for Team England in the Para-sport events.