Offenders shining lasers at aircraft could face jail
Offenders could also face unlimited fines under the safety measures being implemented by the Department for Transport.
Laser pens, which can be easily purchased online or on the high street, can cause eye damage and temporary blindness.
Under current legislation, someone found guilty of shining a laser pen at an aircraft faces a maximum fine of just £2,500.
The Laser Misuse (Vehicles) Bill will expand the types of vehicles covered under the law to include trains, buses, boats and hovercraft.
Police are warning that shining a laser at an aircraft or another moving vehicle is "deeply irresponsible and dangerous".
Commander Simon Bray from the National Police Chiefs' Council said: "Laser attacks can lead to catastrophic incidents. These new and robust measures send a clear message to perpetrators: laser attacks are a crime and serious consequences will follow from committing this offence."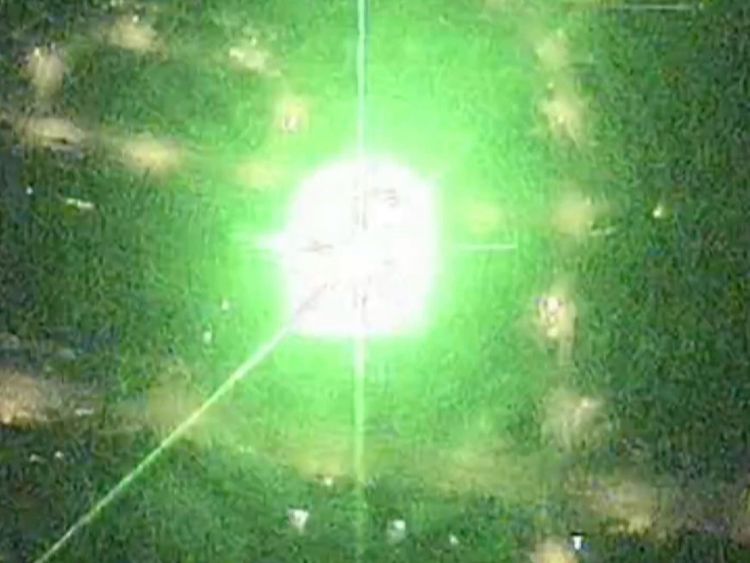 The new laws will make it easier to prosecute people who shine lasers at vehicles, as it will no longer need to be proved that they intended to endanger it.
If reasonable precautions are not taken to avoid dazzling or distracting a vehicle operator, it will still be an offence regardless of whether it was deliberate.
Aviation minister Baroness Sugg warned laser misuse can have "fatal consequences".
She added: "The Government is determined to protect pilots, captains, drivers and their passengers and take action against those who threaten their safety."
Pilots have been increasingly targeted by laser pens in recent years, with the first laser attack on an aircraft reported in 2004.
There have been about 1,500 incidents in the UK each year since 2011 – with 1,258 reported in 2016.
UK Civil Aviation Authority chief executive Andrew Haines said: "Shining a laser at an aircraft in flight could pose a serious risk to flight safety.
"We are concerned about the high number of laser attacks in recent years and therefore welcome new measures that would see tougher penalties for those who act recklessly by endangering the safety of aircraft."