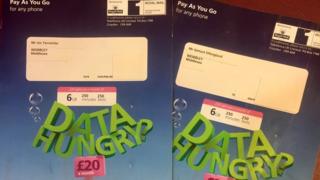 O2 has apologised after two items of "shocking" racist hate mail were sent to a British-Iraqi family in London.
Addressed to "Mr Isis Terroriste" and "Mr Getout Ofengland" at the exact family address in Wembley, north London, they contained free pay-as-you-go Sim cards ordered online in August 2017 by an unknown third party.
The family, who presumed they were junk mail, only recently read the envelopes.
O2 apologises for racist hate mail sent with Sim cards
The Muslim Council of Britain said the "Islamophobia" was deeply concerning.
'Hate speech normalised'
The family told the BBC's Victoria Derbyshire Programme: "We were really saddened to come across these letters, especially having a younger child in the house who we don't want to grow up witnessing such hateful language.
"It's even sadder to think that such hate speech has become normalised despite living in such a uniquely multicultural and diverse city like London."
Family friend and lawyer Sura Jawad said the letters were hateful.
"It's horrible to think that there are people who have so much hatred in them that they set out to deliberately make others feel isolated and unwelcome or who take comments like these light-heartedly," she said.
"Either scenario shows that racism and Islamophobia are very much rife issues, particularly in a post-Brexit climate."
O2 said its Sim card postage and printing was managed by a third-party partner – the name of which it said it would not disclose – and was automated.
Human checks were in place but only once a query had been identified. And in this case no query had been raised before postage.
The company said it would be working with this partner to review the entire process as a result of this issue – including where human checking was used.
O2 added that it "has a rigorous data-cleansing process in place to prevent any of our free products being sent to addresses with obscenities or offensive names, and so this is a rare occurrence".
"If the family decide to report this case, we will work closely with the police as part of their investigation."
After speaking to a friend of the family affected, Miqdaad Versi, assistant secretary general of the Muslim Council of Britain, said: "These Islamophobic bigots are finding more and more ways to spread their hatred.
"Whilst it is imperative that corporations upgrade safeguards to prevent such incidents recurring, there are broader concerns about the government not taking Islamophobia seriously."
Watch the BBC's Victoria Derbyshire programme on weekdays between 09:00 and 11:00 on BBC Two and the BBC News channel.