NY attorney general quits amid assault claims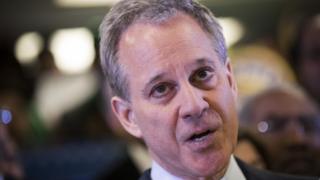 New York Attorney General Eric Schneiderman has resigned following allegations of assault by four women.
The resignation came after the New Yorker magazine published a report quoting the women who accused Mr Schneiderman, 63, of hitting them.
Two identified themselves as former girlfriends of his.
Mr Schneiderman – who contests the allegations – has been a vocal supporter of the #MeToo movement against sexual harassment.
"In the privacy of intimate relationships, I have engaged in role-playing and other consensual sexual activity," he said in an initial statement on Monday. "I have not assaulted anyone. I have never engaged in non-consensual sex, which is a line I would not cross."
He later said he "strongly contests" the allegations but would step down.
"While these allegations are unrelated to my professional conduct or the operations of the office, they will effectively prevent me from leading the office's work at this critical time," he said.
New York Governor Andrew Cuomo had called for Mr Schneiderman's resignation, following the reports.
"No-one is above the law, including New York's top legal officer," he said. "I do not believe it is possible for Eric Schneiderman to continue to serve as attorney general."
Mr Cuomo said he would ask a prosecutor to investigate the allegations.
What the women alleged in the New Yorker
Michelle Manning Barish (above): After four weeks of being involved with Mr Schneiderman, she says that, as they were preparing for bed and still fully clothed, he "all of a sudden, just slapped me, open-handed and with great force, across the face" and then pushed her down and began to choke her. She says: "This was under no circumstances a sex game gone wrong… I did not consent to physical assault." She says he later said: "You know, hitting an officer of the law is a felony."
Tanya Selvaratnam: Says Mr Schneiderman warned her he could have her followed and tapped and said he would kill her if she broke up with him, all of which he denies. The Sri Lankan born author and actor says Mr Schneiderman called her "brown slave", adding: "Sometimes, he'd tell me to call him Master, and he'd slap me until I did."
Third romantic partner: Says he repeatedly subjected her to non-consensual physical violence.
Fourth woman: A prominent lawyer, says Mr Schneiderman slapped her with force after she rebuffed his advances.
"After the most difficult month of my life – I spoke up," Ms Manning Barish wrote on Twitter after the allegations were published.
"For my daughter and for all women. I could not remain silent and encourage other women to be brave for me."
Last month, the New Yorker won a joint Pulitzer Prize with the New York Times for its reporting on sexual harassment in Hollywood.
The reports brought down film mogul Harvey Weinstein, who has denied dozens of sexual misconduct allegations.
As New York state's chief prosecutor, Mr Schneiderman in February brought legal action against Mr Weinstein.
The lawsuit alleged that he abused female employees and threatened to kill staff members.
Mr Schneiderman, a long-term advocate of women's rights, spoke out against sexual harassment and intimidation after he announced the lawsuit.
Skip Twitter post by @AGSchneiderman
Every New Yorker has a right to a workplace free of sexual harassment, intimidation, and fear. If you have been the victim of misconduct, or a witness to it, contact my office:

☎️ (212) 416-8250

— Eric Schneiderman (@AGSchneiderman) February 11, 2018
End of Twitter post by @AGSchneiderman
The Democrat has also been a vocal opponent of Republican President Donald Trump and his New York office had launched a number of legal challenges against the administration.
Presidential counsellor Kellyanne Conway posted a tweet from Mr Schneiderman in which he says he will continue to remind Mr Trump that no-one is above the law. Her own tweet simply says "Gotcha."