Nuisance call bosses could be fined up to £500,000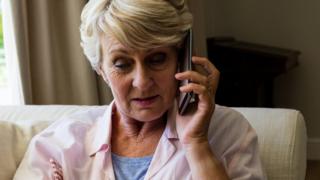 Bosses of firms which bombard people with nuisance calls could be fined up to £500,000 under government proposals to make them personally liable.
A consultation is being launched about the plan – although the idea was first unveiled by government in 2016 and was meant to be in force by spring 2017.
Consumers received 3.9 billion nuisance phone calls and texts last year.
At the moment, only the companies themselves are liable for fines of up to £500,000 if they break the law.
Since 2010, the data protection watchdog has struggled to recover fines because some firms have gone into liquidation to avoid paying.
The Information Commissioner's Office (ICO) said it had collected just 54% of the £17.8m in fines issued over the past eight years because some directors "try to escape paying penalties by declaring bankruptcy – only to open up again under a different name".
Nuisance calls: Your questions answered

Call blocking given to most vulnerable
In a consultation document, the Department for Digital, Culture, Media and Sport (DCMS) says it wants to give the ICO the "powers it needs to hold company directors directly responsible".
Margot James, minister for Digital and the Creative Industries, said: "Nuisance calls are a blight on society and we are determined to stamp them out.
"For too long a minority of company directors have escaped justice by liquidating their firms and opening up again under a different name."
ICO deputy commissioner Steve Wood welcomed the latest announcement.
"We have been calling for a change to the law for a while to deter those who deliberately set out to disrupt people with troublesome calls, texts and emails.
"These proposed changes will increase the tools we have to protect the public."
The consultation closes in August.
'Dodgy practices'
The government plans to amend the Privacy and Electronic Communications Regulations.
But the DCMS first promised to clamp down on what it called "nuisance call crooks" in October 2016.
That plan is thought to have been sidelined while the government concentrated on the recent Data Protection Act 2018.
Nevertheless, the intention to resurrect the idea was welcomed by consumer groups and the industry.
Alex Neill, managing director of Which? said making company directors personally responsible would be a major way to stop "dodgy practices".
The proposals also won support from the marketing industry.
The Direct Marketing Association, which represents official telemarketing firms, said it had long supported personal liability.
John Mitchison, the DMA's director of policy and compliance, said: "It should come as no surprise that individuals willing to skirt the law when it suits them are also ready to do the same to avoid paying their debts.
"The introduction of these new laws would target the individuals profiting from these rogue businesses, making them think twice about breaking the law if there is a real threat that they may be personally liable."
---
How to deal with cold callers
Do:
Ask cold callers to remove your information from their records
Find out caller's number from a landline by dialling 1471 after the call
Check with your phone company if you can be made ex-directory
Don't:
Give away personal or financial information, even if callers claim to be from a company you know
Lose your temper. Be firm and hang up if the caller refuses to go away
Call back phone numbers left on your voicemail, or reply to text messages you don't recognise
Source: BBC Skillswise
---
Have you received nuisance calls? What were your experiences? Please get in touch by emailing haveyoursay@bbc.co.uk
You can also contact us in the following ways:
Tweet: @BBC_HaveYourSay
WhatsApp: +44 7555 173285
Send pictures/video to

yourpics@bbc.co.uk

Text an SMS or MMS to 61124 (UK) or +44 7624 800 100 (international)
Please read our

terms & conditions

and

privacy policy