Novak Djokovic admits his confidence has been knocked since surgery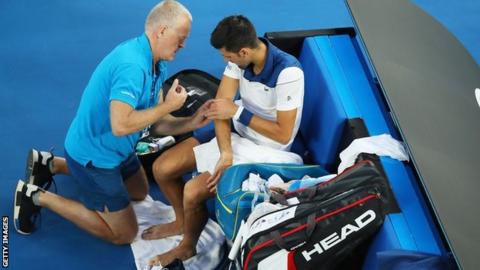 Novak Djokovic blames his recent decline on a premature return from elbow surgery and says he is working hard to rediscover his winning form.
Serbia's former world number one, 30, returned to training two months after his January surgery and fell to successive first-round defeats at Indian Wells and the Miami Open.
"It was my decision [to return] because I missed playing tennis so much," said Djokovic.
"But I was not ready and it backfired."
The 12-time Grand Slam champion is currently ranked 12th in the world and has failed to reach the last eight in any of his five tournaments since making his return.
He was defeated by Martin Klizan, ranked 122nd in the world, in the second round of the Barcelona Open and knocked out of the Monte Carlo Masters in the third round by Dominic Thiem last month.
He has not won a Slam since the 2016 French Open.
Djokovic added: "I have always believed in myself and that's why I was able to make all my childhood dreams come true, but right now my confidence is not at the highest level.
"The recent results have not been what we are used to but coming back is a process and all I can do now is knuckle down to some hard work,
"I have had some similar situations in the past but not one quite as challenging as this, so I have to accept it as part of a learning process."
Djokovic was forced to retire from his Wimbledon quarter-final against Tomas Berdych last year because of an elbow injury he said had been bothering him for more than a year.
Several local nutritionists have been quoted by Belgrade media in recent weeks, saying that his meat-free diet was hampering his fitness.
In response, Djokovic said: "I don't want to elaborate because people have been twisting facts in the past two years and all I'll say is that I reckon I know what's best for me as an athlete and a person,
"It doesn't affect me what people say, but it does affect those who are close to me."