'Not just for naughty boys': The rise in adult ADHD pills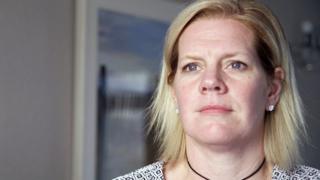 More than 1.6 million prescriptions for ADHD medication were dispensed in the UK last year – double the figure of a decade ago. With adults now the fastest growing patient group, what is it like for those living with the condition?
"I'd always put it down to just not having any willpower, and not being able to cope in stressful situations," Sam Sykes tells the BBC's Victoria Derbyshire programme.
"I thought I was a bit of a lesser human, frankly."
Sam was diagnosed with ADHD last year at the age of 44. Her seven-year-old son also has the condition, which often has a genetic link.
Sam says she has lived life with "almost constant anxiety", and finds it hard to stay in a job for any length of time.
"I get to the point where I can't cope anymore," she says.
"Either I'm too bored, or too frustrated, or I genuinely believe that I'm doing such a terrible job that I need to put my employer out of their misery."
When diagnosed, her doctor prescribed pills – slow-acting stimulants – which she now takes once a day.
"I was a bit scared because it occurred to me quite quickly this could be something I was going to have to be on for the rest of my life," she says.
"But from the perspective of everyday survival it's turned my life around."
Most common behavioural disorder
Even among doctors, ADHD is still often thought of as a childhood disorder.
It was only officially recognised as an adult condition in the UK in 2008.
There are no official figures for the numbers affected, but academic studies suggest up to 204,000 British adults could benefit from treatment – making it the most common behavioural disorder in the country.
The NHS lists the symptoms as impulsiveness, hyperactivity and inattentiveness. It can often lead to connected mental health problems, like severe anxiety or depression.
It is possible to develop ADHD as an adult, after a brain injury for example, but the majority of those diagnosed later in life will have been living with it since birth.
"There is still a great deal of ignorance," says Tony Lloyd, chief executive of the charity ADHD Foundation.
"Many adults who are coming to me now are saying, 'I just thought ADHD was about naughty children'."
He adds: "We're really just beginning to understand that undiagnosed, untreated ADHD can have a very significant impact on somebody's health, wellbeing, employability and their life chances."
The exact causes of the disorder are still not fully understood but there is a growing consensus that biology is to blame.
A complex mix of mainly genetic but also environmental factors appears to lead to a shortage of the chemical messengers dopamine and noradrenaline in the brain.
Medication has been around for decades in different forms. Most of the drugs are stimulants designed to artificially boost the levels of those chemicals.
"It takes an hour to metabolise and – click – it just kicks in," says Sam. "There is no anxiety and you just get on with your day, that's it."
But there can be side-effects.
Sam says taking the pills can make it more difficult to eat and sleep during the day.
"To be honest those side effects are small in comparison the difference the medication has made to my life," she says.
The most commonly-prescribed drug, methylphenidate, is also said to be associated with an increased risk of heart defects in infants whose mothers take the medication during pregnancy, according to a 2017 study in the journal JAMA.
'Mind-altering substance'
Figures compiled by the BBC's Victoria Derbyshire programme show NHS prescriptions for ADHD medications have more than doubled over the last decade, rising from 761,763 items in 2007 to 1,654,694 in 2017 across England, Wales and Scotland.
The data suggests that adults are now the fastest-growing patient group.
In Scotland, the only nation that records age groups, one in every four on medication is now at least 20 years old.
The huge rise in medication has proved controversial, especially in the US where more than six million children are now diagnosed.
"I am really worried about it," says Dr Joanna Moncrieff, a senior clinical lecturer at University College London.
"It's important for people to realise they're taking a mind-altering substance, basically a low dose of amphetamine or a drug that's similar to amphetamine."
Many other psychiatrists reject that argument, saying that stimulant pills alone often allow people with ADHD to control the disorder.
"The actual effect of giving somebody with ADHD medication is that they just feel normal," says Dr Helen Read, a NHS psychiatrist who specialises in adults with the condition.
"That might sound like a small thing but for somebody who's struggled all their life to do the things that everybody else finds easy, that is absolutely incredible for them."
Zoe Twin, 21, from Orpington in Kent, was first diagnosed in the middle of her GCSE exams six years ago.
"It's mentally debilitating," she says. "You get overwhelmed and you just go into this paralysed state because you don't know what the most important thing is."
She says she was unable to concentrate on her work, and was suffering from depression.
Aged 16, she fell off the radar of the local Child and Adolescent Mental Health Services (CAMHS) provider and, after a bad experience, stopped taking her medication.
But the symptoms did not go away. After a struggle she was eventually seen by doctors as an adult and put on a different slow-acting stimulant.
"It's a bit like blinkers for my brain, it just allows me to focus and sort out my priorities." she says.
"I'd like to say I wouldn't need it for all my life because we don't know the actual effects of that, but at the moment it's what I need."
The Victoria Derbyshire programme is broadcast weekdays between 09:00 and 11:00 on BBC Two and the BBC News channel.