North Korea defection: Soldier walked across DMZ in fog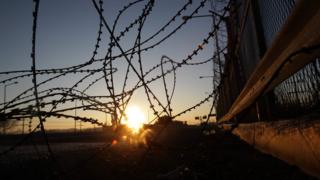 A North Korean soldier has walked across the Demilitarized Zone (DMZ) to defect, the South's military has said.
The "low-ranking" soldier emerged from thick fog and appeared at a checkpoint shortly after 08:00 (23:00 Wednesday) reported South Korean media.
No shots were fired during the incident and Seoul is now investigating the soldier's intentions, said South Korea's Joint Chiefs of Staff.
It comes weeks after one of the most dramatic defections in recent times.
On 13 November another soldier was shot five times by North Korean guards who gave chase as he fled across to the southern side of the Joint Security Area (JSA) in the village of Panmunjom.
It is not yet clear where exactly along the DMZ Thursday's defection occurred.
South Korean news agency Yonhap said it took place at the mid-western front, while a defence ministry official told AFP news agency that the soldier had made his way across the central part of the border.
About 1,000 people from the North flee to the South each year – but very few defect via the Demilitarised Zone (DMZ), which is one of the world's most heavily guarded strips of land.