North Korea announces to the UN the suspension of talks with the US about its nuclear program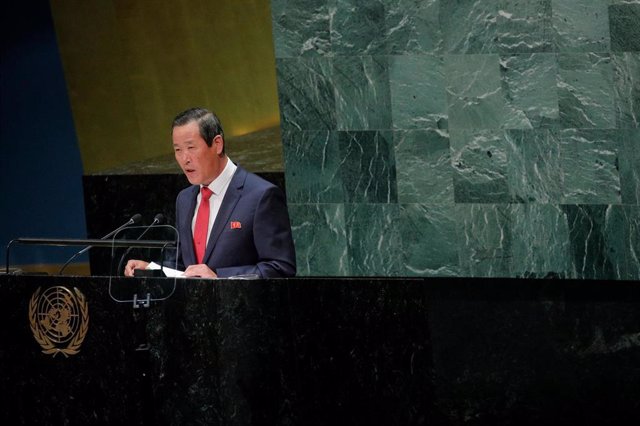 Kim Song, North Korean ambassador to the United Nations – REUTERS / BRENDAN MCDERMID – Archive
NEW YORK, Dec. 7 (Reuters / EP) –
The North Korean ambassador to the UN, Kim Song, has reported that his country will no longer discuss with the United States the possibility of suspending its nuclear program and that any additional conversation in this regard is unnecessary.
"The constant and substantial dialogue pursued by the United States was no more than a trick to gain time with a view to its domestic political calendar," he said in a statement collected by Reuters.
In April, North Korean leader Kim Jong Un said his country would give Washington a deadline of up to the end of the year to be more flexible in denuclearization talks and, since then, North Korean state media has issued warnings. on the consequences of breaking that deadline. None, however, of the caliber of this announcement.
"We don't need to hold new talks with the United States. Denuclearization," he added, "is already off the negotiating table."
The president of the United States, Donald Trump, and his North Korean counterpart have met three times without making any progress in this regard.
Although the US president has said he intends to persevere, his latest comments, in which Kim was concerned about his taste for long-range rocket tests, hinted at a new distancing.
In response, the North Korean regime urged him to refrain from warnings and "metaphors," as they represent "a very dangerous challenge" in Pyongyang's eyes.
Not even the latest postponements of military maneuvers between South Korea and the US, which the North interpreted as a threat to their security, have been able to relieve tension.
In fact, last day 3, the Vice Minister of Foreign Affairs of North Korea, Ri Thae Song, said that any US announcement about the restart of the talks was nothing more than "a silly trick" by the Trump Administration , in order to use it in the next elections.
The deputy minister ended up deciding that his country "has done everything possible not to reverse the important steps it has taken on its own initiative", as stated by the North Korean state news agency KCNA.