No guarantee from PM of Brexit backstop end date
The need for a backstop follows an agreement reached in December that, in the event that the final trade arrangement between the EU and the UK failed to avoid a hard Irish border, the UK would maintain full alignment with EU rules to preserve an open border.
The inclusion of the December 2021 date in the latest government document on the Temporary Customs Arrangement, as it has become officially known, is thought to have been a response to demands for a clear time limit from Brexit Secretary David Davis.
Earlier in Westminster, he came close to resigning over the issue.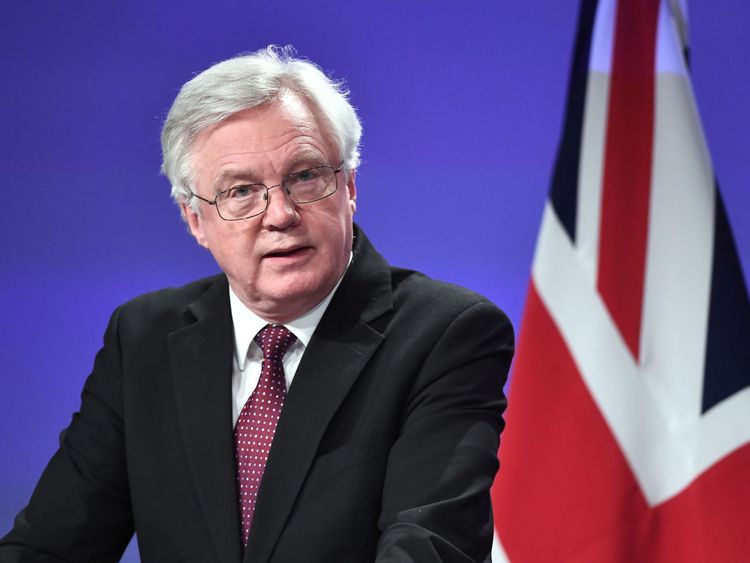 But questioned by reporters during her flight to Canada for the G7 summit in Quebec, Theresa May twice refused to give a cast-iron guarantee that the backstop arrangement would expire in 2021.
She said: "This is something we don't ever want to happen.
"It is purely there in the circumstances where we've agreed the end state customs arrangement, but for technical reasons it's not been possible to put that in place by 1 January 2021.
"That's why we're clear that we expect that we will actually be able to have that end state customs arrangement in place at very latest by the end of December 2021 – but our focus obviously is going to be on making sure we're all agreed and others are agreed that we get the best way to ensure we get the right relationship between the UK and the EU trading in the future."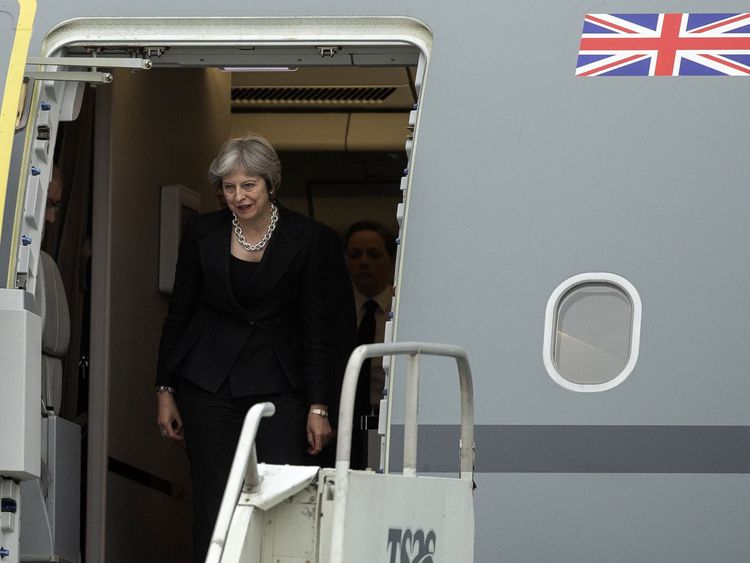 Sources close to Mr Davis earlier told Sky News he believed Mrs May was attempting to bypass the Brexit cabinet sub-committee and send the backstop document to Brussels without their approval, but she insisted this was not the case.
The prime minister added: "We have been discussing with ministers over the last few days the nature of this document and what we would be saying.
"We'd agreed previously that there should be a backstop, that this would be the structure of the backstop.
"We'd agreed it should be time-limited and we were clear that it was important that it was sent to the commission."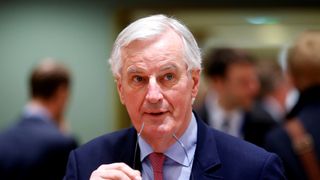 Arriving in Quebec late on Thursday, Mrs May will have the opportunity to discuss Brexit with French President Emmanuel Macron and German Chancellor Angela Merkel in bilateral meetings on Friday.
But it is likely the main focus of the meeting of the world's seven wealthiest industrial nations will be dominated by discussions around the US president's controversial trade strategy.
The UK, France, Germany, Italy, Canada, and Japan are expected to mount a concerted effort to persuade Donald Trump to rethink punitive tariffs imposed on steel and aluminium exports to the US, with Mrs May saying she had made her views clear to Mr Trump and calling the tariffs "unjustified".
Asked whether she believed Mr Trump was likely to be fully engaged at the G7 given his major meeting with Kim Jong Un in Singapore on Tuesday, the prime minister said: "President Trump was present at the last G7 in Italy, and he came around the table, we agreed a whole variety of issues there."
More from Brexit



Leaked recording reveals Johnson's views on Brexit negotiations and Trump




PM's headache as Brexiteers raise concern over Irish border plans




Brexit puts price cap on EU calls and texts at risk, Sky News learns




Rebel MPs push for change of course on Brexit ahead of Commons showdown




Government warned British cars 'won't qualify for free trade deals' after Brexit




Farmers worried over 'lack of detail' in post-Brexit plans
Working sessions of the leaders are also expected to cover accusations of Russian interference in western democracies, as well as a focus on North Korea, Syria and the Iran nuclear deal.
The summit will also provide the opportunity for Mrs May to discuss other key parts of her international agenda, including a call for leaders to work harder to crack down on online gender-based abuse during a session on empowering and supporting girls and women around the world.