NI same-sex couples marry in Ireland and Great Britain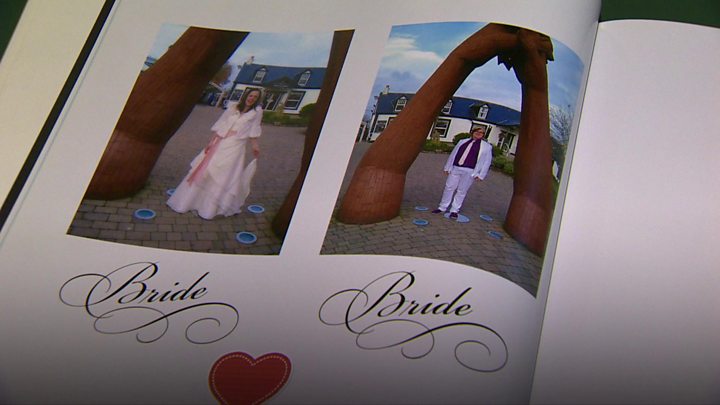 Dozens of same-sex couples have side-stepped NI's strict marriage laws by getting married elsewhere in the UK or Ireland, BBC News NI has learnt.
At least 43 couples from NI married in the Republic of Ireland, England, Wales and Scotland in 2016, figures show.
When such couples return to Northern Ireland their marriages are recognised only as civil partnerships.
Northern Ireland is the only part of the UK where same-sex marriage is illegal.
The Irish Central Statistics Office said 27 same-sex couples from NI married in the Republic of Ireland in 2016; General Register Office Scotland said 11 same-sex NI couples married in Scotland that year, while five married in England and Wales, according to the Office for National Statistics, via the Passport Office.
But the Passport Office said these figures were probably a large undercount, as many couples who travel to get married give the register office their hotel address rather than their permanent residence.
Legislation to allow for the recognition of same-sex marriages in Northern Ireland has been debated in the assembly five times since 2012.
During the most recent vote in November 2015, members of the devolved government supported legalising same-sex marriage, with a slim majority of 53 votes to 52.
However the motion was blocked by the DUP, using a measure known as a petition of concern. The DUP says it has a mandated policy to defend the current definition of marriage in Northern Ireland.
Progress at Stormont on this issue has since stalled.
Last month the Northern Irish Labour MP Conor McGinn brought a bill to the house of commons to legalise same-sex marriage in Northern Ireland, but it was blocked from moving to the next stage by a Conservative MP.
'We're just forgotten about'
Jackie and Lesley Johnston travelled from their home in east Belfast to Gretna Green in Scotland three years ago to get married.
"We were definite that we wanted a marriage certificate," Jackie Johnston told BBC News NI.
It was important to both of them that they "did it right", added Lesley.
"We see our relationship as equal to anyone else's and we wanted a marriage like anybody else," she said.
A civil partnership was not enough for the couple, said Jackie. "Versus marriage, it's not the same," she said.
"We hold British passports, Irish passports, are citizens of whichever we want, it's legal in Britain and the UK, it's legal in the Republic and we're just forgotten about."
'Hate mail' from family
The couple did worry about how friends and family might react, and Lesley said they had received mixed responses.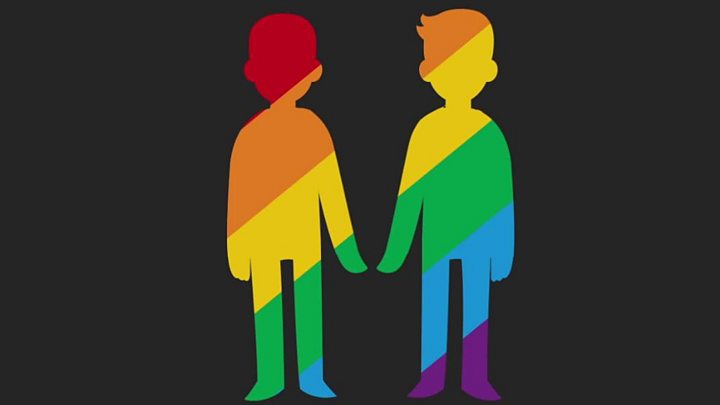 "There were a few more traditional people that had their reservations," she said.
When the couple returned form their honeymoon they were met with critical letters from some relatives.
"The better way to put it would be hate mail, saying how awful it was that we got married," said Jackie.
Lesley said the only way to deal with such reactions was to "ignore it, move on, be happy".
Under the terms of the Marriage (Same Sex Couples) Act 2013, any same-sex marriage that takes place in England and Wales – or any other jurisdiction – is recognised as a civil partnership in Northern Ireland.
Timeline of same-sex marriage laws
Marriages conducted outside of England and Wales are treated as "overseas civil partnerships": The marriage certificate becomes a de facto civil partnership certificate and is treated as such in Northern Ireland.
Walker v Innospec, a case taken to the Supreme Court last year, changed the rights of people in civil partnerships across the UK.
The benefits for same-sex spouses now have to be the same as for heterosexual married couples.
These legal rights cover, for example, pensions, benefits and taxes.
The Northern Ireland Office (NIO) said that while the Government supported same-sex marriage across the UK, it remained a devolved issue.
"If legislation was to go before the commons, the Government would afford their MPs a free vote," said the NIO in a statement.