NGOs accuse Trump of breaching International Law and putting Palestinians on the ropes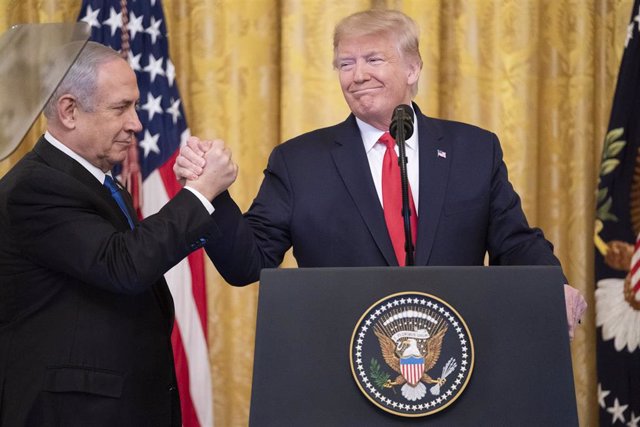 Benjamin Netanyahu and Donald Trump – Shealah Craighead / White House / dp / DPA
MADRID, 29 Jan. –
NGOs have expressed doubts about the peace plan raised by the president of the United States, Donald Trump, to try to resolve the conflict between Israelis and Palestinians, for understanding that it raises violations of International Law and does not take into account the legitimate rights of The Palestinian population.
Among the most controversial aspects of the so-called 'agreement of the century' is the legitimization of areas occupied by Israel in 1967, an "annexation of Palestinian territories" which, in the opinion of an Amnesty International head, Philip Luther, "would flagrantly violate International Law Humanitarian".
"For more than half a century of occupation, Israel has imposed a system of institutional discrimination against Palestinians, denying them basic rights and access to effective reparations for these violations. The agreement amounts to supporting these brutal and illegal policies," Luther lamented. a statement.
The head of Amnesty for the Middle East has also criticized that the situation of Palestinian refugees is not taken into account, claiming that the recognition of such status is an inalienable right that cannot be left out of political concessions.
Trump's plan does not recognize the right of these people to return to the lands of their ancestors, just as it calls on the Palestinian authorities to refrain from any international complaint against Israel. "A just and sustainable peace requires a plan that puts the Human Rights of Palestinians and Israelis first," according to Luther, who recalled the right of victims of abuse to seek justice wherever they are.
A group of NGOs has also joined the doubts, including Oxfam and the Norwegian Refugee Council (NRC), which have called on the international community to work for a resolution of the conflict that respects International Law and that "guarantees the security of all the peoples of the region. "
In this regard, they fear that the Washington initiative will involve "violations" of International Law, referring specifically to possible annexations of territories, transfers of property or restrictions of movements, according to a joint statement.
NGOs also foresee an "escalation of violence", since "the situation facing the Palestinians is already critical." Almost half of them need humanitarian assistance, especially in the Gaza Strip, where it is estimated that more than two thirds of the population need food aid.
However, they have condemned any act of violence that could be committed in reaction to the peace plan, in anticipation that tension may increase in the coming days in the Palestinian territories. The local news agency WAFA has confirmed clashes between protesters and security forces on Wednesday in the Jordan Valley.