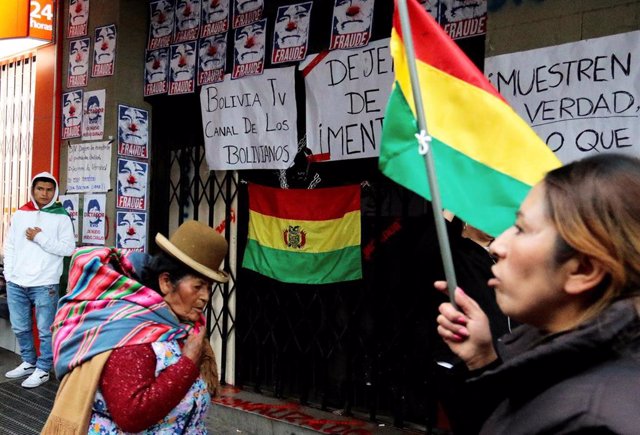 Protesters surround the building where Bolivia TV and the Patria Nueva radio are located during protests against Bolivian President Evo Morales. – REUTERS / STRINGER.
MADRID, Nov. 10 (EUROPE PRESS) –
The Government of Bolivia has denounced this Sunday the taking of state and private media and the assault on journalists by "radical groups."
"Bolivia denounces that (…) radical groups headed by civic leaders, with the support of leaders of opposition political parties, have promoted demonstrations in the vicinity of state and private media, attacking workers and journalists, while forcing them to vacate their facilities, proceeding with the transmission shutdown, "the Bolivian Foreign Ministry said in a statement posted on Twitter.
In the Government's view, "this is new evidence of an attack on the Human Rights of media workers, a violation of press freedom and the right to communication and the basic principles of the Rule of Law," which It constitutes an "unmistakable" sign that there is a coup d'etat underway against the country's president, Evo Morales.
Local media have reported that dozens of people associated with the Movement To Socialism (MAS) of Morales have attacked the facilities of the Unitel television channel, located in the city of El Alto. However, the MAS has demarcated itself from the attack and denied its involvement in it, according to the Bolivian news agency ABI.
Previously, groups of protesters demanding the resignation of Morales have surrounded the building in which Bolivia TV and the Patria Nueva radio are located, both state media, and have tried to stop transmitting information.
"The state media BTV and RPN have been intervened by organized groups that after threatening and intimidating journalists forced them to abandon their sources of work," Morales has denounced in his Twitter account. "They say they defend democracy, but they act as dictatorship," he has settled.
In addition, another group of people has attacked the radio of the Single Trade Union Confederation of Peasant Workers of Bolivia (CSUTCB), an attack that Morales has labeled "cowardly" and "wild".
According to ABI, "opposition clash groups" took the CSUTCB's facilities this Saturday and tied the director of the Community Radio, José Aramayo, to a pole.
Finally, the Bolivian Ministry of Foreign Affairs has also emphasized that the "violent demonstrations" against the media are moving away from the call that the Bolivian president has made this Saturday to convene a parliamentary representation to a dialogue table with the objective of "pacifying Bolivia".
The protests in Bolivia broke out the same night of the presidential elections held on October 20 due to the sudden suspension of the transmission of official results just when they forced a second round between Morales and the main opposition leader, Carlos Mesa.
When he resumed, almost 24 hours later, they granted Morales the first round victory, so Mesa has denounced a "gigantic fraud." Both called for the mobilization of their own, which has resulted in riots. At least two people have died and more than 190 have been arrested in these two weeks.