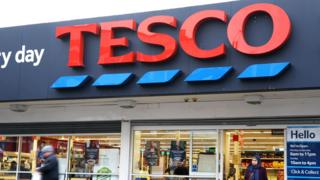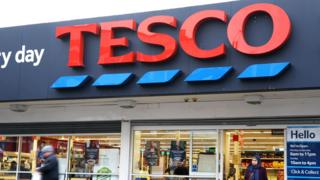 Profits at Tesco have soared as the UK's biggest supermarket continues its revival under boss Dave Lewis.
The group reported pre-tax profits of £1.3bn for the year to 24 February, up from £145m for the previous year, as UK like-for-like sales rose 2.2%.
The jump follows years of disappointing results for Tesco after an accounting scandal and overambitious expansion.
The retailer said the grocery market remained challenging due to ongoing pressure on costs.
Shares rose nearly 6% to 222.6p, valuing the company at £21.7bn.
Mr Lewis said it had been a year of strong progress, with the ninth consecutive quarter of growth.
"More people are choosing to shop at Tesco and our brand is stronger, as customers recognise improvements in both quality and value," he said.
Aldi tops supermarket satisfaction survey
Tesco faces record £4bn equal pay claim
Tesco's performance has gradually improved since 2014, when it reported the worst results in its history with a record pre-tax loss of £6.4bn.
It has faced an intensely competitive retail environment in which German discounters Aldi and Lidl have won market share from the bigger supermarkets. It was also fined £250m last year for overstating its profits in 2014.
Tesco said that it won 260,000 more shoppers last year and that sales of fresh food, its own-brand products and clothing had performed well.
The group also announced its first final dividend for four years, giving shareholders a total payout of 3p a share for 2017.
Mr Lewis also said the group was on track to save at least £200m a year after completing its takeover of wholesaler Booker Group last month.
Booker is the UK's largest cash-and-carry operator, supplying everything from baked beans to teabags to thousands of convenience stores, grocers, pubs and restaurants.
Bryan Roberts of TCC Global said Tesco was "back on track".
"Suppliers, colleagues and shoppers are all back on side assumingly, and sales and profits are both growing very strongly, and of course the Booker deal has been completed and they can grow on that too," he told BBC Radio 4's Today programme.
"Perhaps what the future will hold will be the store in Cambridgeshire, which also has a small Booker cash-and-carry in it."
He said Tesco was also likely to start selling its own-brand goods through Booker-owned convenience store chains such as Londis and Budgens.
Challenging conditions
The fall in the pound since the Brexit vote has increased the cost of imported food, driving up costs for retailers and prices for consumers.
However, Tesco still increased its margins significantly last year.
Laith Khalaf, a senior analyst at Hargreaves Lansdown, said inflationary pressures were starting to ease, but competition in the grocery market remained fierce.
"It's also hard not to glance at the periphery of the market, and see Amazon limbering up with the purchase of Whole Foods and online grocery trials in selected UK postcodes," he said.