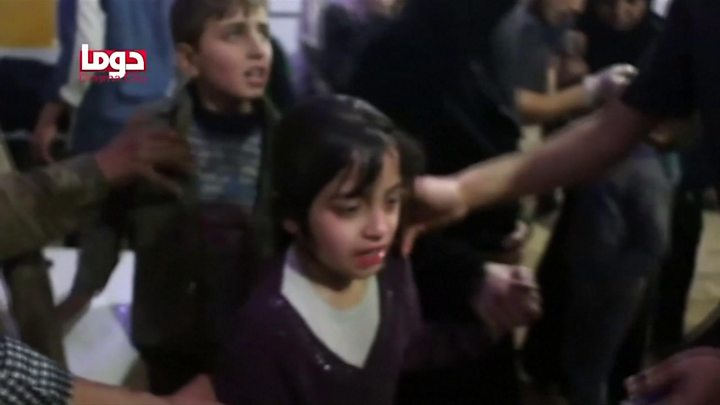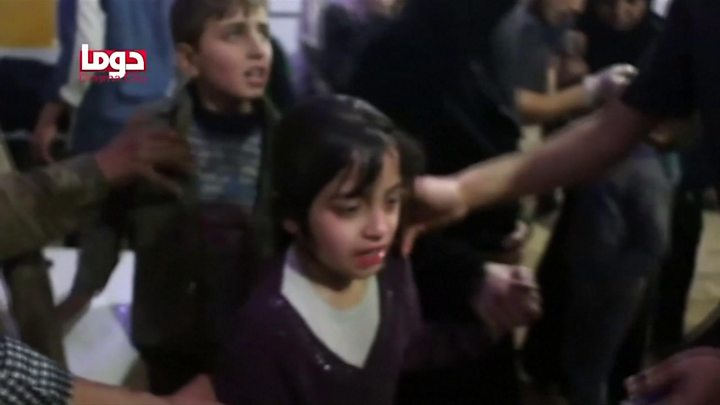 US President Donald Trump has lashed out at Syrian President Bashar al-Assad and his allies Russia and Iran over a suspected chemical attack, saying there will be a "big price to pay".
Scores of people are said to have been killed in an attack on the rebel-held town of Douma on Saturday.
The UK called for an urgent inquiry while Pope Francis said nothing could justify using chemical weapons.
Both Syria and Russia deny a chemical attack took place.
In a series of tweets, Mr Trump described President Assad as an "animal".
Skip Twitter post by @realDonaldTrump
Many dead, including women and children, in mindless CHEMICAL attack in Syria. Area of atrocity is in lockdown and encircled by Syrian Army, making it completely inaccessible to outside world. President Putin, Russia and Iran are responsible for backing Animal Assad. Big price…

— Donald J. Trump (@realDonaldTrump) April 8, 2018
End of Twitter post by @realDonaldTrump
The attack came after Russian talks with the rebels, the Jaish al-Islam group, broke down last week and both sides resumed fighting.
However, according to Syrian state media, a deal was struck with Jaish al-Islam on Sunday to allow them to leave Douma within 48 hours in return for them freeing prisoners.
Douma is the last rebel bastion in the Eastern Ghouta region outside the capital, Damascus, following a government offensive and other evacuation deals brokered by Russia.