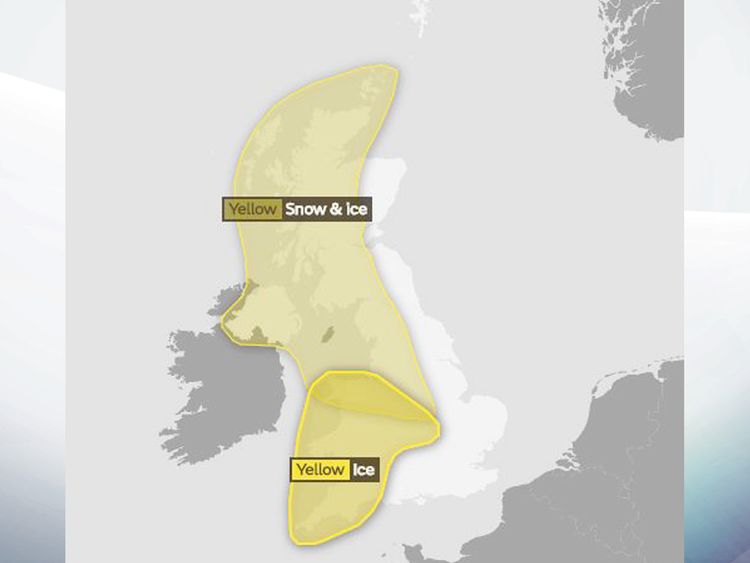 Yellow warnings for ice and snow were issued by the Met Office across all of western Britain and Northern Ireland.
The South West, Wales and the southern Midlands were warned to prepare for ice overnight with temperatures down to -3C (27F).
The North West, North Wales, western Scotland and Northern Ireland were told to expect equally cold temperatures and widespread snow showers.
Parts of Scotland could see the mercury fall as low as -6C (21F), the Met Office said.
An icy cold wind chill will leave many parts of the UK feeling several degrees Celsius colder than their actual temperatures.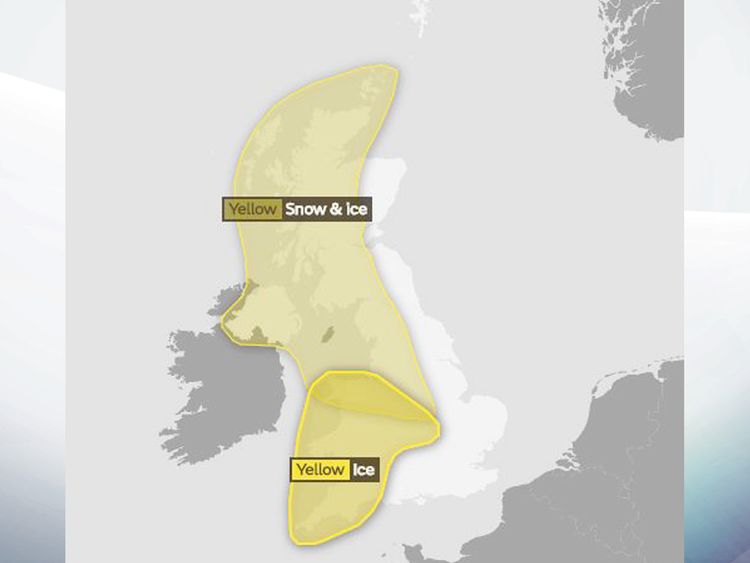 Sky's Weather Producer Joanna Robinson said: "Sunday evening will be cold and blustery, with hail, sleet and snow showers becoming increasingly confined to the West.
"It will be largely dry overnight, but Ireland, Northern Ireland, western Scotland and northwest England will see further wintry showers. A covering of snow is possible there.
"Clear skies will bring a widespread frost, locally severe in Scotland, with icy stretches in the West."
The Met Office said: "Icy patches are expected to form on untreated roads, pavements and cycle paths on Sunday night and Monday morning. This is likely to lead to some injuries from slips and falls."
On Sunday, snow showers caused disruption on the roads with North West Motorway Police tweeting there were "numerous reports" of accidents on the roads due to the conditions, and urged drivers to slow down.
The Met Office warned of the potential for power cuts, as well as vehicles becoming stranded on the roads.
Milder temperatures are set to return mid-week.