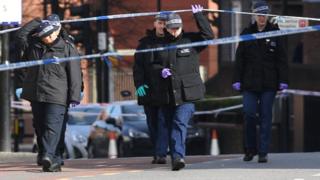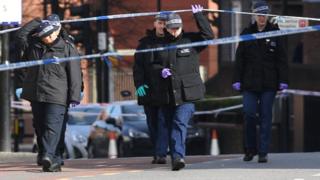 A fall in police numbers is likely to have contributed to a rise in serious violent crime, according to a leaked Home Office document seen by the BBC.
Officials drafting a strategy to tackle violence in England and Wales said offenders may have been "encouraged" by a lack of resources and fewer charges.
The new measures are being set out later by Home Secretary Amber Rudd.
The government says it does not comment on leaked documents but had rejected claims officer numbers were a factor.
It comes amid concerns following the deaths of more than 50 people in violent attacks in London since the start of the year.
The document from February notes that forces have faced greater demand since 2012 due to an increase in recorded sex offences while during the same time officer numbers have fallen.
It says: "So resources dedicated to serious violence are have come under pressure and charge rates have dropped. This may have encouraged offenders."
The analysis does go on to say that forces with the biggest falls in officer numbers are not seeing the biggest rises in serious violence.
It concludes that while pressure on resources is not the "main driver" that "triggered the shift in serious violence", it has "likely contributed".
Writing in the Sunday Telegraph at the weekend, the home secretary said evidence did not back up claims that reduced resources – including a fall in police officers – were the cause of more crime.
'Whatever it takes'
BBC News correspondent Jessica Parker said the leaked document would therefore make for uncomfortable reading for Ms Rudd, particularly because it appeared to have come from the government's own analysts.
The government's £40m Serious Violence Strategy has a focus on early intervention and tackling the drugs market said to be a key driver of the violence.
Shadow home secretary Diane Abbott has called it a "small-scale" investment, claiming the government has "only just woken up" to the problem. Leader Jeremy Corbyn is to attack the Conservatives over police cuts and rising crime when he launches the party's local election campaign later.
However, Ms Rudd will commit to doing "whatever it takes" to make the streets safe as she launches the strategy – emphasising the government's determination to halt a rise in stabbings, shootings and acid attacks.
She will say: "We will take the comprehensive approach necessary to make sure that our sons and daughters are protected and our streets are safe.
"As a government, we will never stand by while acid is thrown or knives wielded."
The strategy, which was first outlined last year, will target the so-called county lines drug distribution model where city gangs courier heroin and crack cocaine to rural or coastal towns, and will call on social media companies to do more remove violent gang content.
An Offensive Weapons Bill includes new proposals on the carrying of knives and acid.
It includes:
Restrictions on online sales of knives – preventing them from being posted to residential addresses
It would also become illegal to possess in private certain weapons such as zombie knives and knuckle-dusters
A ban on the sale of the most dangerous corrosive products to under-18s
A consultation on extending stop-and-search powers to enable the police to seize acid from people carrying it in public without good reason
Making it an offence to possess a knife on a further education premises.