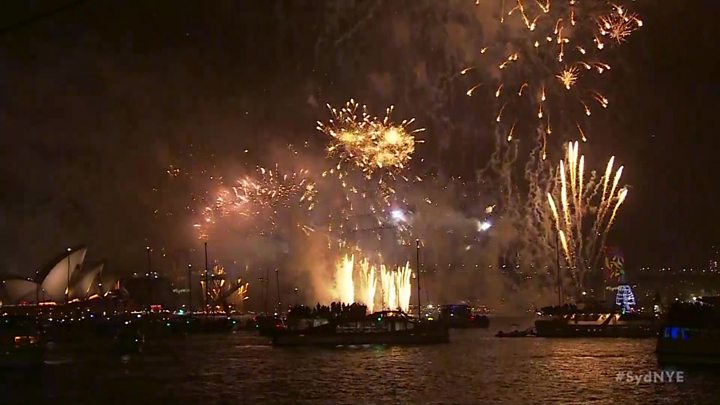 The UK is preparing to bid farewell to 2017 and see in the new year with parties, fireworks and fizz.
There are warnings, however, that celebrations could be scuppered by travel disruption and stormy weather.
Storm Dylan brought winds of up to 76mph to parts of Scotland on Sunday but Hogmanay organisers in Edinburgh say it will still go ahead.
Meanwhile, a 24-hour rail strike could cause delays for partygoers travelling in or out of London's Waterloo.
In central London, rain is expected to gradually ease off throughout the evening and skies will become clearer for the New Year's Eve firework display, but there is a small chance of showers, the Met Office said.
More than 100,000 ticket holders are expected to watch the midnight show from the banks of the River Thames.
The soundtrack will be dominated by female artists, including Aretha Franklin, Ariana Grande and Florence Welch, to mark the centenary of women getting the vote.
Big Ben will also chime to welcome in the new year having been turned back on over the festive period following restoration work.
Some 10,000 fireworks will then light up the sky in a 12-minute display.
This year fewer Met Police officers will be working during the celebrations, despite four terror attacks in the city in the past year, but people are being urged to remain vigilant.
Superintendent Nick Aldworth said: "We are providing a proportionate number of officers based on the threat, number of people coming and the secure environment we've been able to build."
He said "a mix of overt and covert officers would be deployed, as well as dogs, and the use of CCTV" and spectators should report anything suspicious to an officer or event staff.
In Edinburgh, up to 150,000 people will gather for Hogmanay, one of the world's biggest street parties.
The worst of the storm was expected to hit the city before the party kicks off at 19:00 GMT.
Around lunchtime, police had to close Princes Street to pedestrians after parts of a stage were blown over in high winds.
Ambulance crews are preparing for a busy night, with the South Western Ambulance Service saying it expected demand to rise on New Year's Eve.
The service said it has extra staff working and every vehicle in use.
The Welsh Ambulance Service has also urged people to think twice before phoning 999, after calls were made for colds and stomach ache over Christmas.
Sunday's 24-hour walkout by members of the Rail, Maritime and Transport union on South Western Railway (SWR) and CrossCountry networks is expected to cause delays and cancellations, including at Waterloo, the UK's busiest station.
Andy Mellors, managing director of SWR, said services will be reduced and are likely to be "exceptionally busy".
He said people travelling into the capital for the fireworks or other celebrations "may face long queues and crowded stations on the way home".
The union says it is striking over concerns about rosters, Sunday working and guards – but the government has accused members of causing misery for passengers.