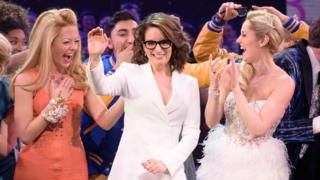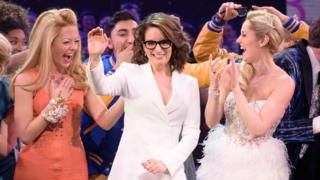 The Mean Girls stage musical has received positive reviews from most critics – although others said it was a "watered-down" version of the film.
The show, which received its official Broadway premiere on Sunday night, has been adapted by comedian Tina Fey, who also wrote the original 2004 movie.
Writing for Vulture, Sara Holdren said: "It's a real treat to find that it's still witty, worldly, and wise.
"The musical has its share of beloved moments to live up to. And it delivers.
"Partly by approaching its material with immense energy and a wicked sense of humour, and partly by diving headlong into joyful inside jokery."
But, she added: "Mean Girls isn't flawless… Some of the movie's best jokes don't fully land in their delivery."
Alexis Soloski awarded the show three stars in her review for The Guardian, describing it as "basic".
"Mean Girls is clear about a lot of stuff. Girls should support each other instead of trying to tear each other down. Girls shouldn't send nude pics and boys shouldn't ask for them. Girls should be themselves. Agreed!" she wrote.
"But just as in Frozen, another portrait of adolescent girls playing just a few streets away, there's no real sense of who these girls are. They're rarely more than stereotype. The boys, too… That doesn't make the sprightly show a failure or a flop or a swing and a miss, but it's no hit either.
"Here's the best/worst thing you can say about Mean Girls: It's nice."
The stage show is directed and choreographed by Casey Nicholaw, best known for his work on The Book of Mormon.
Fey's husband Jeff Richmond has written the music, with lyrics by Nell Benjamin, for the show – which is playing at the August Wilson theatre in New York.
"Fans of the original movie should be reassured that nothing important has been purged from the story," noted Variety.
In his review for The Washington Post, Peter Marks described the show as "tailor-made for any adult ear that grooves on mischievous wit."
"For sure, Mean Girls is a chronicle on the superficial side: Some lip service is paid to the evils of bullying, but the evening is pure send-up.
"Best of all, in a marketplace filled with mindless work about teens, here's one that doesn't insult their intelligence – or yours."
But not everyone was quite so enthusiastic.
Sara Stewart of The New York Post said it was a "watered-down" version of the film, adding: "Fey's show has heart, but it's not terribly fetch."
"Mean should never feel this warm and fuzzy," she continued in her two-star review – which is titled "How Tina Fey messed up Mean Girls musical".
Similarly, Ben Brantley of The New York Times described the show as "likable but seriously over-padded".
"The disconnect that troubles this musical isn't a matter of adapting to changing times. Scott Pask's set, Gregg Barnes's costumes and Finn Ross and Adam Young's video designs render sociological exactitude with flat comic-strip brightness.
"No, the trouble lies in the less assured translation of Fey's sly take on adolescent social angst into crowd-pleasing song and dance. Richmond and Benjamin's many (many) musical numbers are passable by middle-of-the-road Broadway standards (though Ms. Benjamin's shoehorned rhymes do not bear close examination).
"Yet they rarely capture either the tone or the time of being a certain age in a certain era. A couple of songs tip their caps to Katy Perry/Pink-style ballads of empowerment, but they lack the energizing pop snap you long for.
Deadline's Greg Evans said the show "feels as fresh as your best and worst high school memories".
"At least one of the characters in Broadway's Mean Girls would describe this musical adaptation of Tina Fey's 2004 not-for-teens-only film comedy as absolutely fetch. And fetch it is, whether that word ever happens or not."
He added the show "stays true to the plot (and well-remembered jokes and catchphrases) of the film while smoothly updating the high school mischief-making for the age of social media".
The New Yorker's Michael Schulman said: "Fey's screenplay is so taut and quotable that the addition of songs seems almost gratuitous, and Richmond's music has the interchangeable pop-anthem sound that's become standard on Broadway," he wrote.
"If Mean Girls has anything new to tell us, 14 years after its original iteration, it's that meanness can be just as morally ambiguous as niceness.
"Fey has added a poignant scene, late in Act II. Regina, now in a spinal halo, meets Cady, now contrite, in the bathroom at the Spring Fling. 'I know I was harsh,' Regina says. 'And people say I'm a bitch. But you know what they would call me if I was a boy?' 'Strong?' Cady guesses. 'Reginald,' Regina answers."
Speaking at Sunday evening's Olivier Awards, producer Sonia Friedman said it was likely that the show would eventually transfer to London's West End.
She told WhatsOnStage: "Yeah, we'd love to… certainly, if I'm involved, it's going to happen, isn't it?"
Follow us on Facebook, on Twitter @BBCNewsEnts, or on Instagram at bbcnewsents. If you have a story suggestion email [email protected].