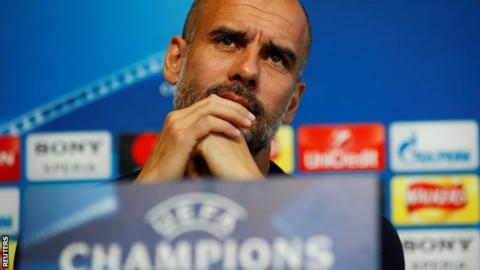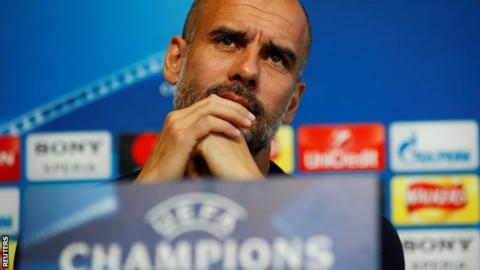 Manchester City will have to play the "perfect game" on Tuesday to overturn a 3-0 deficit in their Champions League quarter-final against Liverpool, says manager Pep Guardiola.
City go into the second leg after back-to-back defeats by the Reds and derby rivals Manchester United in what Guardiola described as a "tough" week.
The Spaniard said he still had belief in his "extraordinary" side.
"The only way to play good football is to be positive," he added.
"To go through you have to make the perfect game, create chances and concede few chances. The chances we receive, we have to defend well.
"We have 90 minutes and anything can happen. All we are going to do is try.
"We have 90 minutes plus extra time and what we have shown this year – even in the last game – is we can create a lot of chances in the last few minutes."
Asked whether his side's mental state had been impacted by two defeats in the past week, Guardiola said: "I don't know.
"But, if we are not able to cope with that psychologically, it will be a good lesson for the future.
"It is a test. Football, like life, is a challenge."
Klopp waits on Salah fitness
Liverpool manager Jurgen Klopp said City's back-to-back defeats showed they are "human beings" but acknowledged his side will have to be "at our best again".
"We are not thinking about who is favourite," he said.
"It is better than I expected but you all know there is still a lot of work to do."
City thumped Liverpool 5-0 in their Premier League match at Etihad Stadium on 9 September.
Referencing that game, Klopp said: "The quality of City was clear.
"We all know about Pep – best coach in the world. It was clear they would be outstanding but there is no perfect football team in the world.
"They have it most consistently, that is why they will be champions, but we know they can concede goals."
Forward Mohamed Salah, who has scored 38 goals this season, came off during the first leg, and missed the goalless Merseyside derby against Everton on Saturday.
Asked about his fitness, Klopp said: "Not sure 100%. We train at 5 o'clock.
"It is rather yes than no but we have to see. We will train and then make a decision."
'My team is extraordinary'
City have already won the Carabao Cup this season and remain on course to win the Premier League, holding a 13-point advantage with six games remaining.
"We don't need to talk about motivation," said Guardiola. "The way they played all the season shows what they want to do.
"My team is extraordinary, it is not comparable to others, it is top. I will be close to them no matter what happens between now and the end of the season.
"It's a joy to be manager of them."
City striker Sergio Aguero missed the first leg against Liverpool because of injury and was only used as a substitute against Manchester United.
He was denied a penalty after a robust challenge from Ashley Young, and asked about his fitness, Guardiola said sarcastically: "He was diving."
Guardiola does not expect Liverpool bus attack
City's bus was attacked on the way into Anfield for the first leg – with cans, bottles and flares thrown – but Guardiola does not expect his side's fans to do the same.
"Since I am here it has never happened once," he said. "I think you are not going to ask me [after the game] like you asked me in Liverpool.
"We knew what was going to happen. Where were the police? On Tuesday, the police know exactly what they have to do.
"For our fans it is just a football game. Come to the game and support us during the game. What happened last week has happened."
City ready for Liverpool 'long balls'
Manchester City midfielder Fernandinho said "now is the time" for the team's "experienced players to take over" to try to overturn their deficit.
"We all know it is not easy to turn around but we are going to fight to turn it around," said the Brazilian.
"They are a team who like to play long balls, fighting for the balls and they try to keep the players around the middle but I think we are going to be ready for it."