Police have released images of three men wanted in connection with the "vicious and prolonged attack" on the 24-year-old in Croydon, south London.
He was led into a house on Monday afternoon by two men who demanded to know if his gold Rolex watch, worth £9,000, was real.
A gang of armed men were waiting inside the property in Thornton Heath and subjected the victim to an "extended bout of physical abuse and humiliation" over more than two days, Scotland Yard said.
He was kicked in the face and threatened with knives and a gun before being forced to phone his parents to get them to pay a "significant sum" of money to his kidnappers.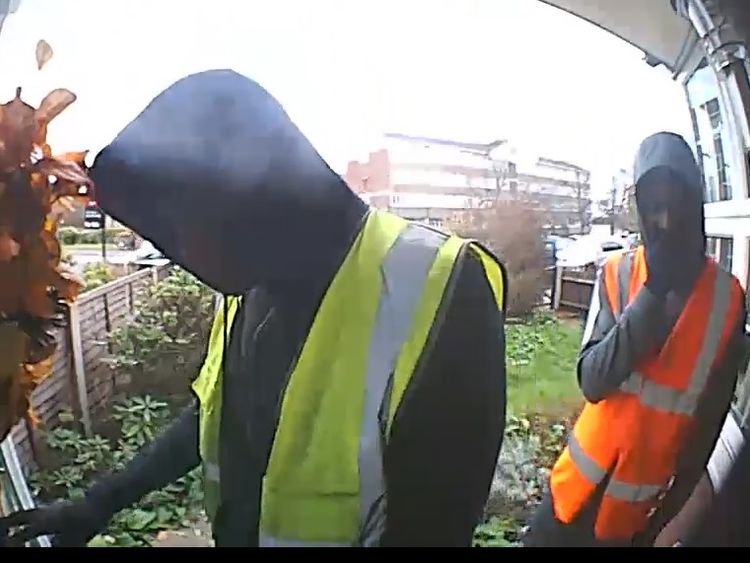 After his parents said they could not pay the ransom demand, the victim was made to hand over the keys to his family's home so two of the gang could burgle the property.
CCTV images show two suspects enter the house in Sydenham, south east London, where a large sum of cash, designer handbags, designer sunglasses and Rolex watches were taken, police said.
The victim managed to escape his kidnappers when he was driven to the Metro bank in North End, Croydon, to withdraw money. He fled to a nearby church, Croydon Minster, and police were called.
The Metropolitan Police have named two brothers, Ali Dervish, 28, and 19-year-old Sinan Dervish, who are wanted in connection with the kidnapping.
Two other men, aged 39 and 58, were arrested on suspicion of kidnapping on Friday and have been bailed to a date in January.
Detective Sergeant Samuel Bennett said: "This was a vicious and prolonged attack of a nature that thankfully is very rare. It has left the victim utterly distraught and traumatised.
"We are urgently seeking any information on the individuals involved, who we believe could number up to 12, but particularly those whose images and details we have released.
"These men are dangerous and it is important that we apprehend them before they can target anyone else."
Anyone with information should police on 101 or Crimestoppers anonymously on 0800 555 111.