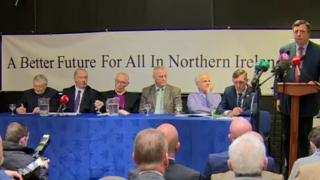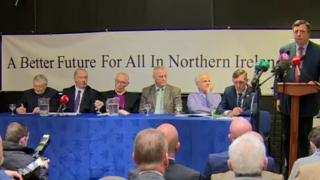 Northern Ireland's three loyalist paramilitary organisations have said they fully support the rule of law and suggested any members involved in crime will be expelled.
The Ulster Defence Association, Ulster Volunteer Force and Red Hand Commando issued a joint statement.
It is their first joint statement since the loyalist ceasefire in 1994.
The police and security services said some loyalists remain heavily involved in a wide range of crime.
The three groups issued a statement on Monday to mark the 20th anniversary of the Good Friday Agreement, saying they will not tolerate criminality in their ranks.
"We fully support the rule of law in all areas of life and emphatically condemn all forms of criminal activity," they said.
"Individuals who use criminality to serve their own interests at the expense of loyalist communities are an affront to the true principles of loyalism.
"We reject and repudiate as unacceptable and contrary to loyalist principles any criminal action claimed to have been undertaken in our name or attributed to any individual claiming membership of our organisations.
"We further declare that any engagement in criminal acts by any individuals within our organisations will be regarded as placing those persons outside the memberships. This has been collectively agreed."
The statement is the result of lengthy discussions between the loyalist groups and three former Protestant church leaders.
Those former leaders – Alan Harper, former Church of Ireland Archbishop of Armagh and All-Ireland Primate, Harold Good, former Methodist President, and Norman Hamilton, former Moderator of the Presbyterian Church – took part in Monday's news conference.
'Total sincerity'
They sat alongside representatives of the UDA, UVF and Red Hand Commando at the event in Belfast's Linenhall Library.
The Reverend Harold Good was one of two independent witnesses who oversaw the decommissioning of IRA arms in 2005, a vital part of the Northern Ireland peace process.
He told Monday's news conference that if the church leaders "were not convinced of the total sincerity of this initiative, we would not be here".
He described the loyalist statement as a "very important step" in the efforts to transform Northern Ireland society.
"Unreservedly and wholeheartedly, we are encouraging it and have been supporting it and [are] privileged to be part of this journey", the former Methodist President added.
UDA leader Jackie McDonald was asked about the similarities between the latest statement and past initiatives aimed at moving loyalists away from paramilitarism.
"Obviously, if you see the people on the stage here with us, that's a profound difference," Mr McDonald replied.
"I'd like to thank, by the way, the members of the churches here today and the other members that have been with us over the many, many months it's taken to draw this statement up.
'Soul searching'
"It wasn't written on the back of a beer mat in some club or pub.
"It's taken a lot of serious soul searching; a lot of thinking about the problems we've had in the past, thinking about the problems we have at the minute."
The UDA leader added: "We're beginning a process here and for once we need people in the media and politicians, the PSNI, and everyone to support us and accept that this is a genuine statement. We intend to carry it out."
The statement, entitled A Loyalist Declaration of Transformation, said the loyalist groups want to play a constructive role and to "provide strong community leadership".
"For too long we have been berated for our past and not able to imagine a better future," it said.
"We must challenge that outlook by no longer being apologists for conflict but advocates for change and working to create a society that is at ease with itself in its diversity and difference."
The loyalist groups also said they recognise the importance of a legacy process "designed to help Northern Ireland confront the past".
Searches and arrests
But the statement does not say the groups endorse the Stormont House Agreement proposals on dealing with the past, which include a unit to investigate killings during the Troubles.
The statement comes seven months after a new task force targeting criminal activity by all paramilitary groups in Northern Ireland became fully operational.
The Paramilitary Crime Task Force is a joint team consisting of officers from the Police Service of Northern Ireland, National Crime agency and officials from Her Majesty's Revenue and Customs.
During the financial year to date, it has conducted 193 searches and made 47 arrests, of which 44 people were charged or reported to the Public Prosecution Service.
In a statement, the PSNI said the Task Force has seized an estimated £58,000 worth of drugs, retained £50,000 worth of cash, and that seizures of illicit tobacco products had prevented the loss of £1,237,462 in revenue.