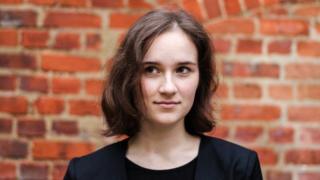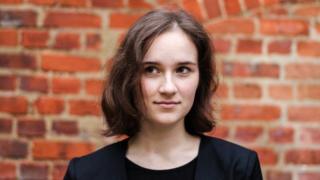 A student has praised "lovely people" who helped after her notes were stolen six weeks before her final exams.
A bag containing Anne-Marie Downes' work and a laptop was stolen from a car parked in Durham.
The Oxford University student believed the notes may have been dumped, and tweeted appealing for people to look out for them.
It has been retweeted more than 12,000 times, and people have sent her their own university notes.
The 21-year-old grew up near Durham and was back in the city on Saturday for a wedding when her rucksack was stolen.
The politics and philosophy student said her first reaction was to panic.
"This is all useless to them and it was very, very important to me, for my finals which are very soon", she said.
Skip Twitter post by @am_downes
1/: Hi Twitter – I'd be very grateful if people could share this thread! TL;DR: A bag was stolen from me in Durham yesterday and it contained nearly all my notes and work for my finals, which are in six weeks. I'm hoping they dumped the bag/contents and someone may find them.

— Anne-Marie Downes (@am_downes) April 8, 2018
End of Twitter post by @am_downes
She decided to tweet, thinking the laptop would have been taken and the rest thrown into a bush.
She said "brilliantly thousands and thousands of people have retweeted it".
Among the offers of help have been people saying they will go and have a look and people sending their notes from when they were at university.
"It's so, so lovely. I went to bed last night devastated and really worried if I'm going to pass exams, woke up this morning and thought 'how lovely are people'. It's amazing", she said.
Her plan now is to look at the notes people have sent and try to "cobble together" some exam preparation and finish her dissertation.
She said: "People have rallied around and I am beginning to hope I might pass this degree after all."
Durham Police said: "Due to the nature of the items taken, they are likely of little value to the culprit, but their loss has caused significant distress to the victim."