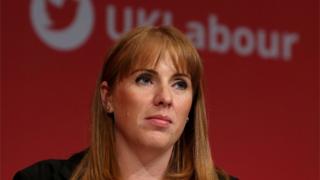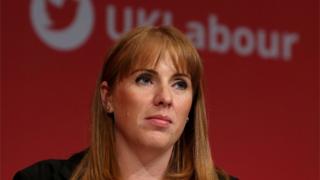 Labour frontbencher Angela Rayner said she has been "a little frustrated" with the speed at which the party has responded to a report on anti-Semitism.
The shadow education secretary said Jeremy Corbyn had been "quite clear" there was no place for anti-Semitism.
But she said it was not right when action against "anti-Semitic rhetoric" was "far too slow" by all parties.
The Chakrabarti report found Labour was not overrun by anti-Semitism but noted an "occasionally toxic atmosphere".
The 2016 inquiry made 20 recommendations, including procedural changes to improve the party's disciplinary process and the appointment of a lawyer to give advice on issues including disciplinary matters and to take responsibility for instructing external lawyers.
Last week the Board of Deputies of British Jews and the Jewish Leadership Council said in an open letter to Labour MPs there has been a "repeated institutional failure" to properly address anti-Semitism.
Mr Corbyn said last week that he recognised that anti-Semitism had "surfaced" in the party and said he was "sincerely sorry for the pain which has been caused" and pledged to "redouble my efforts" to tackle it.
Ms Rayner told the BBC's Andrew Marr Show that Labour's incoming general secretary Jennie Formby had made the issue her priority and Mr Corbyn had been clear on the issue.
But she added: "I've been a little frustrated that we haven't moved forward on the Chakrabarti report as fast was I would've liked to have seen."
"We need to make sure that the full Chakrabarti report is implemented and that we have an absolute zero tolerance
"It can't be right when people see on social media – and it's not just the Labour Party but across the board – anti-Semitic rhetoric and they see no action taken or that action is far too slow."
Asked about last week's meeting of the Bristol West Labour Party, in which MP Thangam Debbonaire was reportedly heckled for attending a protest against anti-Semitism in the party, Ms Rayner said: "I wasn't at the meeting but what I can tell you is Thangam is an absolute credit to the Labour Party… So Thangam is doing a fantastic job, she shouldn't be hounded out of any meeting.
Meanwhile Ms Rayner's shadow cabinet colleague Andrew Gwynne had said there is "absolutely no place" in the Labour Party for anti-Semitism, after The Sunday Telegraph reported that he was a member of a Labour supporters' Facebook page where offensive remarks were posted.
Mr Gwynne, the Denton and Reddish MP, said: "I was added to this Facebook group without my knowledge or permission.
"I do not support the posts and I abhor anti-Semitism. It has absolutely no place in the Labour Party or in society. End of."
A demonstration, led by the Campaign Against Antisemitism, will be held outside the Labour Party Head Office in central London later.