New Spanish government is dominated by women
Prime Minster Pedro Sanchez's Socialist government features 11 women, including in top jobs such as defence, finance and economy, and six male ministers.
In Europe, only Sweden has more female ministers – 12, compared to 11 men.
Mr Sanchez hailed his new government, which has the highest proportion of women in a current cabinet, as "unmistakably committed to equality".
He vowed his government would be "modernising and pro-European" through sharing "the same vision of a progressive society".
Mr Sanchez replaced the conservative ex-PM Mariano Rajoy, who lost a confidence vote in parliament amid a corruption scandal.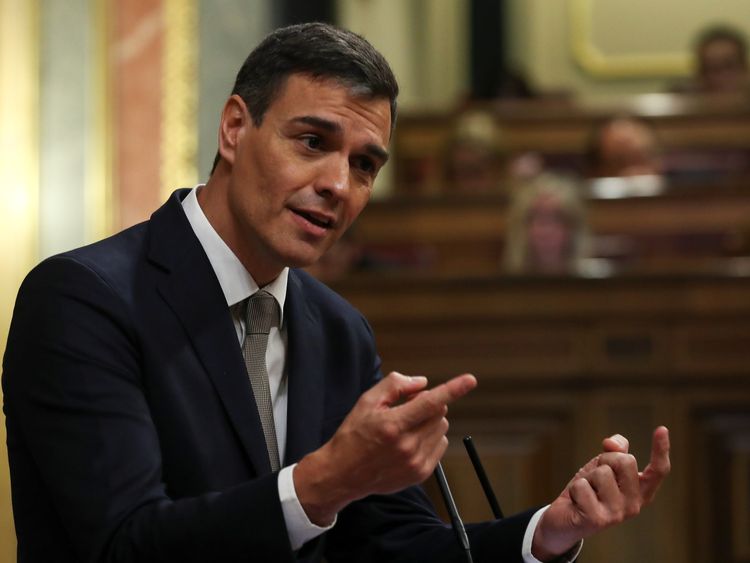 Many of the new ministers are drawn from outside politics, such as former astronaut Pedro Duque, who has been appointed minister of science, innovation and universities.
Other appointments include prosecutor Dolores Delgado as justice minister; former president of the European parliament Josep Borrell as foreign minister; and journalist and author Maxim Huerta as culture and sports minister.
Catalonia-born Meritxell Batet is tasked with dealing with the divisive issue of Catalan independence and trying to keep Spain united as territorial minister. Mr Sanchez said the nation was "indivisible".
Although Spain has never had a female PM, the country now joins a handful of nations including France and Canada where more than 50% of the government is female.
Madrid's government is 61.1% female, with Finland the only country to do better in terms of gender equality: in 2015 its government was 64.7% female, according to the Organisation for Economic Cooperation and Development.
Spanish political commentators believe that one of Mr Sanchez's biggest challenges will be addressing corruption in the country.
His minority government will rely on a confidence-and-supply agreement with smaller parties as the Socialist Party has only 84 out of 350 seats in parliament.