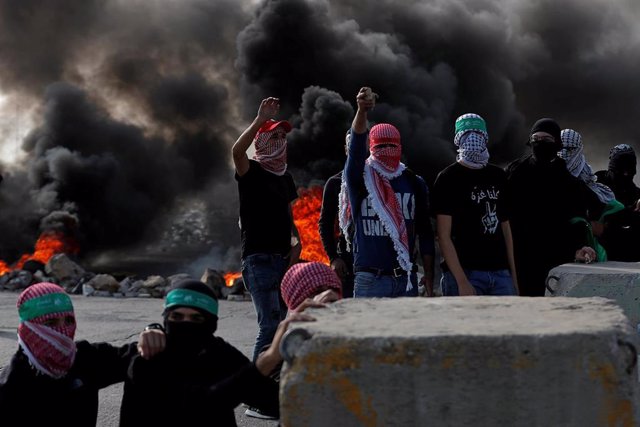 Palestinian protesters during the last days of protest of the 'Day of Wrath', following the latest decisions of the United States in the region to consider that Israeli settlements do not violate international treaties. – REUTERS / MOHAMAD TOROKMAN
MADRID, Nov. 26 (EUROPE PRESS) –
Thousands of Palestinians have demonstrated on Tuesday in the West Bank against the new measure of the administration of the president of the United States, Donald Trump, by which Israeli settlements do not violate International Law.
"The factions have agreed to celebrate a 'Day of Wrath' in order to reject the position of the US administration in favor of Israel," said Azam al Ahmed, one of the main advisers to the president of the Palestinian Authority, Mahmoud Abbas , on the radio station Voice of Palestine.
Among those factions referred to by Al Ahmed is also the Palestinian National Liberation Movement (Al Fatá), whose vice president, Mahmud al Alul, has called for protests against President Trump and his Administration to intensify. Thus, there are demonstrations in cities such as Ramallah, Tulkarem, Bethlehem, or Hebron.
For its part, the Palestine Liberation Organization (PLO) has criticized the "hostile and Zionist policy" of Washington, while asking the international community for an explicit denunciation of the "dangerous" policies and decisions of the United States. and Israel, which only aspire to "liquidate the Palestinian cause" and "destabilize the situation in the region."
After the demonstrations, dozens of people have marched to the checkpoints of the Israeli Army, where the first clashes with Israeli soldiers have taken place, as reported by the Palestinian news agency WAFA.
At the northern entrance of the city of Ramallah and that of Al Bireh, the Israeli Army has responded to protesters who were approaching by shooting tear gas and rubber-coated bullets. According to medical sources displaced to the place, a man was injured by a bullet hit in the leg and taken to the hospital in Ramallah.
At the northern entrance to Bethlehem, soldiers fired tear gas at the protesters, causing cases of suffocation. Similar clashes have taken place in northern Hebron, leaving two people injured after receiving riot impacts from the Army.
For their part, Palestinian protesters responded to soldiers by throwing stones at them and burning tires.