New MOT tests come into force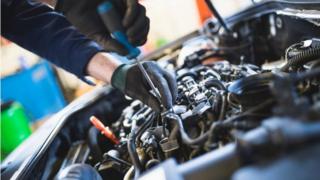 Changes to the MOT test come into force on Sunday, which introduce new categories under which a vehicle can fail or pass.
The categories include "dangerous", "major" and "minor" which determine whether a car, van or motorcycle must be taken off the road or can be driven as long as repairs are carried out.
The MOT will also be tougher on diesel emissions.
Vehicles with a diesel particulate filter will now have to pass new tests.
That filter captures and stores exhaust soot to reduce emissions.
A diesel vehicle will fail its MOT if there is smoke of any colour coming from the exhaust or there is any evidence that the diesel particulate filter has been tampered with.
These faults will be classed as "major" under the new categories.
Rule changes
Defects found during an MOT will be categorised as:
Dangerous: Fail. The vehicle is a "direct and immediate risk to road safety or has a serious impact on the environment". It must not be driven until it has been repaired.
Major: Fail. The fault "may affect the vehicle's safety, put other road users at risk or have an impact on the environment". The car, van or motorcycle must be repaired immediately.
Minor: Pass. A defect has "no significant effect on the safety of the vehicle or impact on the environment". It must be repaired as soon as possible
Advisory: Pass. A defect could become more serious in the future. "Monitor and repair it if necessary."
Pass: The vehicle meets the minimum legal standard.
A wider range of a vehicle's parts will be tested including: the tyres, to check if they are underinflated; the brake fluid, to investigate if it has been contaminated; and fluid leaks, to make sure they do not pose an environmental risk.
The full list can be found here.
There is good news for drivers of classic cars – vehicles more than 40 years old, or produced before 31 May 1978, will not need an MOT.
A spokesman for the RAC motoring organisation said these vehicles were often "rare classics" and well maintained by their owners so were "deemed not to be such a road risk".