New mass mobilization in Hong Kong despite authorities ban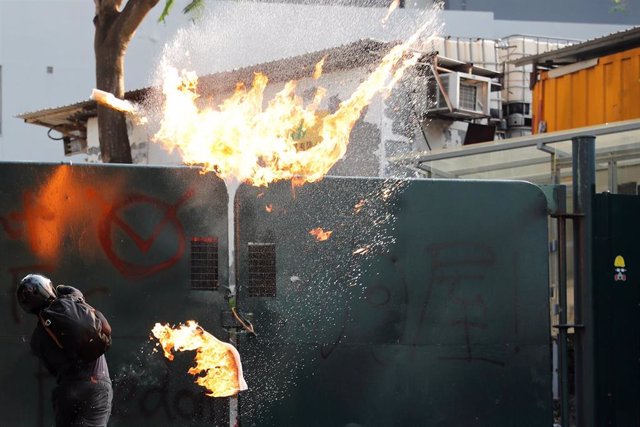 A Molotov cocktail launched against Tsim Sha Tsui police station during protests in Hong Kong – REUTERS / TYRONE SIU
There have been outbreaks of violence after the mostly peaceful demonstration
HONG KONG (CHINA), Oct. 20 (Reuters / EP) –
Tens of thousands of people have returned to the streets of Hong Kong on Sunday to protest against Beijing-related authorities and there have been new riots between police, who have used tear gas and water cannons, and protesters, who have launched Molotov cocktails against agents.
The Civil Front for Human Rights, convener of the protest despite not receiving a positive response to his request for autroization, says that some 350,000 people have participated in the protest. The police have not given any estimate on the grounds that the march was illegal.
After two weeks of relative calm in a crisis that lasts for five months, this Sunday there has been a rebound in participation in the protests, although the most radical have also been backed by this regeneration of the mobilizations.
The violent have attacked shops and bank branches linked to mainland China and have erected barricades on Nathan Street, one of the main roads of the Kowloon Peninsula. Agents have responded with charges, water cannons and tear gas.
"The Hong Kong people are not going to give up their right to demonstrate. Today's assistance is greater than expected," explained one of the attendees, Daniel Yeung, equipped as many of the protesters with a mask despite the fact that the authorities have resorted to a colonial era law to prohibit its use. "As long as people keep going out in this number we are safe and we can continue fighting," he added.
The marches have occupied the main avenues of several neighborhoods in Kowloon and have advanced northward, leaving in their wake damage to shops considered similar to Beijing such as the ICBC and Bank of China banks or the mobile phone manufacturer Xiaomi.
In Tsim Sha Tsui, protesters have thrown Molotov cocktails at a police station in response to tear gas launched from inside. In addition several subway stations have been attacked.
Police have reported that more than 40 Molotov cocktails have been seized and the detection of an explosive device hidden in the rubble used to block a street. The device has been detonated in a controlled manner.
During the raid a police water cannon has been fired at the door of the Kowlon Mosque, the most important Islamic center in Hong Kong, and several faithful have denounced that it is a "provocation", so they demanded a police apology Later several agents have entered the Mohammedan temple, although it has not transcended any further information.
The protesters themselves have explained that on this occasion they have chosen to flee police charges to avoid mass arrests as in other protests.
Two people have been shot and wounded by police shots and there have been more than 2,300 arrests since the protests worsened last June. Mobilizations broke out to protest a bill of extradition to China that has already been withdrawn by the Hong Kong government.
The territory returned under Chinese sovereignty in 1997 thanks to an agreement with the United Kingdom whereby China pledged to maintain the regime of rights and freedoms enjoyed by the peninsula during colonial rule, which resulted in the beginning of "a country , two systems. "