Netball winner jokes that praise from Beckham 'better than gold'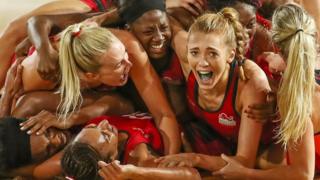 The coach of the England netball team has told Radio 1 Newsbeat how one of her star players reacted to winning gold at the Commonwealth Games.
Tracey Neville's team won gold for the first time after a last-second goal by Helen Housby.
Tracey says the shooter told her David Beckham commenting on her Instagram was "actually better than winning gold".
England beat the overwhelming favourites, Australia, 52-51.
If you look down the comments on Helen's feed, you can see David Beckham's "congratulations".
Manchester United legend Gary Neville, Tracey's brother, got involved too.
Speaking to Newsbeat, Tracey Neville explains why it was such a big deal.
"Her favourite team is Manchester United. When she was at Manchester Thunder, she always used to go and steal tickets off my family to go and watch the game," says Tracey.
"So when she got messages off David Beckham and Gary Neville, obviously my brother, she was absolutely made up."
Speaking about her own reaction to the win, Tracey says she feels like she's "living in a bubble".
"It still feels extremely surreal, I just can't help but think 'yes, we did it!'"
"Everyone wants those last-minute goals. They want those fights, those contests. Everything was shown in that game.
"If I could say how I wanted to win a gold medal, that was exactly how it was".
It wasn't just other sports stars who used social media to pass on their congratulations to the team.
The historic win made the front pages of many newspapers on Monday morning too – that's despite Manchester City winning the Premier League on Sunday.
"Just to see netball take over a little bit, even if it's just for one day, it's such an achievement," says Tracey.
"We've broken the glass ceiling in respect to the confidence and the belief in our girls.
"We've always been chasing this dream."
Tracey's also hoping her team's win could help inspire another Neville coach.
Her other brother, Phil, is in charge of the England women's football team.
"I've actually not spoken to him about either of our jobs.
"I think it's just inspired the nation. If this puts his job more on the media map and he can support us in generating more for our sport as well… then I think it'd be amazing."
Follow Newsbeat on Instagram, Facebook and Twitter.
Listen to Newsbeat live at 12:45 and 17:45 every weekday on BBC Radio 1 and 1Xtra – if you miss us you can listen back here.