Netanyahu meets with Putin this Thursday in Moscow to introduce Trump's 'agreement of the century'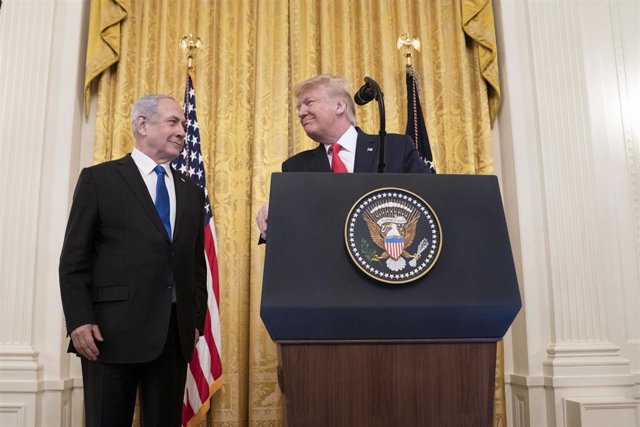 Trump and Netanyahu during the announcement of the US peace proposal for the Israeli-Palestinian conflict. – Shealah Craighead / White House / dp / DPA
MOSCOW, 30 Jan. (DPA / EP) –
The Israeli Prime Minister, Benjamin Netanyahu, will meet this Thursday in Moscow with the President of Russia, Vladimir Putin, to present in person the 'agreement of the century' proposed by the United States to resolve the Palestinian-Israeli conflict.
The plan of the president of the United States, Donald Trump, contemplates that Jerusalem is the "indivisible" capital of Israel, leaves the settlements under Israeli control, gives the sovereignty of the Jordan Valley to Israel and creates a Palestinian state with capital in an area of East Jerusalem located outside the security barrier established by Israel.
Russia has played an important role as a mediator between Israel and Palestine in recent years. In fact, Putin met with Netanyahu and Abbas last week in Jerusalem and Bethlehem, respectively.
"Russia is ready to continue undertaking all efforts, do everything possible, to achieve a viable peace in the Middle East," Putin spokesman Dmitry Peskov said when the US proposal was known, according to the state agency of Russian news TASS.
Before Netanyahu's visit, Putin has granted forgiveness this Wednesday to an Israeli woman sentenced last year to seven and a half years in prison for drug possession, a case that had strained bilateral relations.