Nerves as far-right party set for office in Italy
The anti-establishment Five Star Movement and the far-right League have struck a deal to deliver an alliance – one which will stir nervousness among many in Europe.
Neither leader of the two parties will be prime minister.
:: New Italian PM named as obscure law professor
Instead, the pair have selected little-known law professor Giuseppe Conte as premier – and their choice has now been approved by President Sergio Mattarella.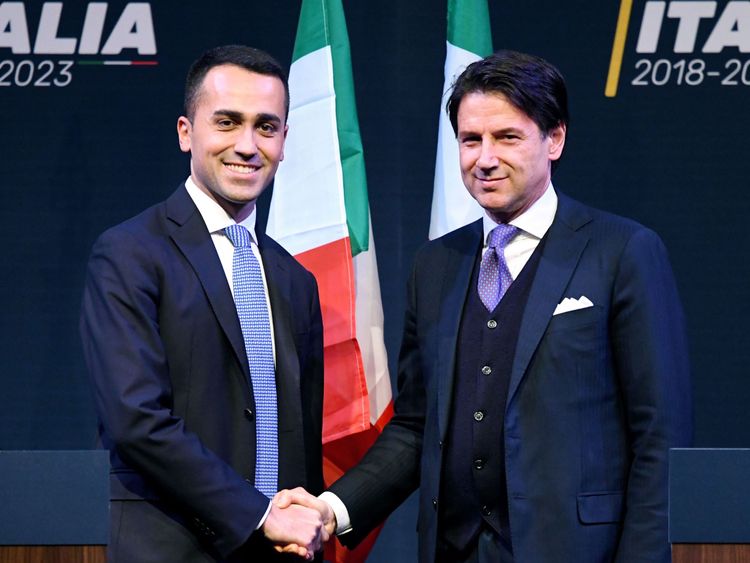 A deal which outlines the prospective government's programme was presented to the president on Monday evening.
It comes after weeks of tense negotiations in the eurozone's third largest economy.
It has at its core billions of euros in tax cuts, increased welfare payments for the poor and the scrapping of unpopular pension reforms.
Both parties also want to pursue an aggressive crackdown on immigration and favour a shift towards Russia on foreign policy, with the lifting of sanctions against Moscow.
Members of Five Star and the League were consulted and approved the joint plan published last week.
All that remains now is for Mr Conte to finalise the make-up of his government and for the official swearing in.
While there will be relief that a government can finally be installed, there will be concern that Italy could now become a source of political, economic and financial risk for the European Union.
Five Star was co-founded by comedian Bepper Grillo in 2009 under an anti-establishment banner to fight corruption and politics as we know it. It is led by 31-year-old Luigi Di Maio.
:: Italy election: Populist parties claim right to govern after poll stalemate
League (formerly Northern League), was set up in 1991 as a secessionist movement for Italy's northern regions. It is now headed by 45-year-old Matteo Salvini, whose anti-immigrant "Italians first" narrative dominated the election campaign.
Their respective triumphs delivered Italy's biggest political upheaval in a generation as voters rejected traditional, centrist parties and their partnership could now remove Italy as a strong pro-EU voice from the heart of the continent.
Five Star may have pulled back from its pledge to hold a referendum on Italy's membership of the euro but it doesn't mean Mr Di Maio or Mr Salvini aren't pushing for change.
Both leaders are demanding an overhaul of the EU's strict fiscal rules to help pay for their campaign promises which include a €780 basic income for poor families, a two-tier flat tax and repeal of pension reforms which would raise the age of retirement.
Those plans will be costly and Brussels will be worried about economic instability in a country which already has the second highest public debt in the eurozone after Greece.
Both men also want an aggressive approach to migration.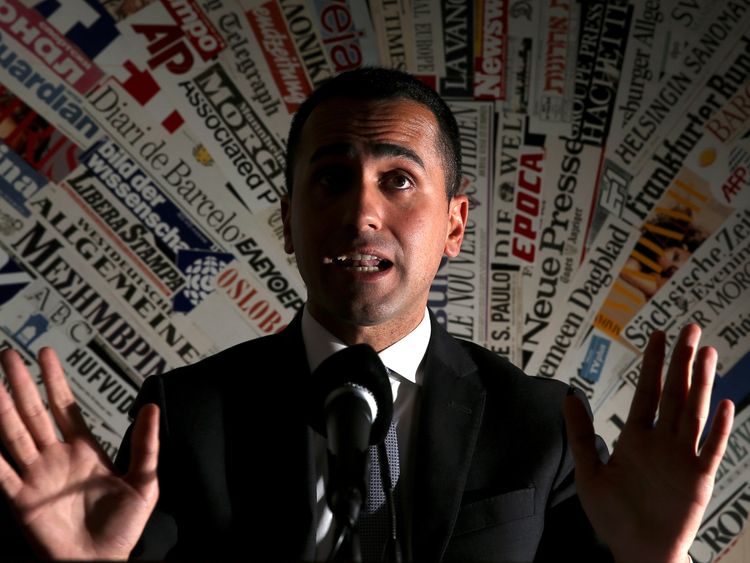 They have called for the quick deportation of an estimated 500,000 immigrants from Italy and are demanding more help from Brussels in trying to deal with people entering the country – predominantly from north Africa.
The pair have called the EU's rules on migration "unsustainable for Italy", demanding an overhaul of the so-called Dublin rules which oblige migrants to apply for permission to stay in the country where they first arrive.
Then there is Russia.
Mr Di Maio and Mr Salvini say the country should not be perceived as a threat "but as an economic and trade partner".
They want an immediate lifting of sanctions against the country. This would set Italy on course for a bust-up not only with the EU but also with the US, where officials have warned no country can lift the measures without serious consequences.
If all goes to plan, the Di Maio-Salvini pact will deliver a harsh reality to Brussels: a eurosceptic government running one of Europe's largest nations and lining up with the likes of Hungary and Poland to boost the populist voice.