Nepal will withdraw charity to any community that banishes women during menstruation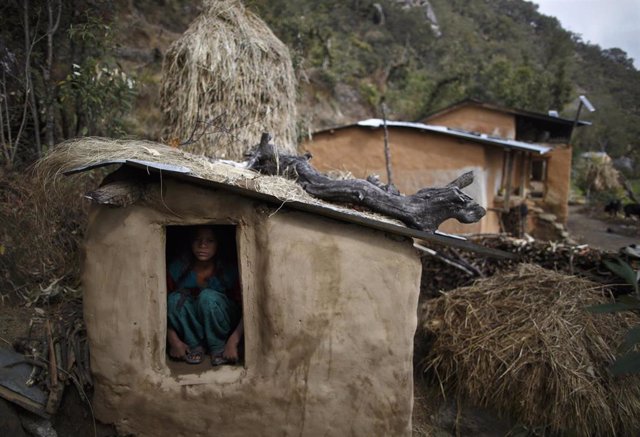 Nepal.- Eight out of ten young people are forced to sleep outside their home during their menstruation in Nepal – REUTERS / NAVESH CHITRAKAR – Archive
KATHMANDU, Dec. 27 (Thomson Reuters Foundation / EP) –
The Government of Nepal has announced this Friday that it will suspend all social benefits to any individual or community that expels a woman during her period, an extremely dangerous historical tradition, based on pure superstition, and that this week has regained prominence after Several deaths
This practice, known as "chaupadi", not only banishes women but also constrains them for days inside a poorly ventilated cabin, without social contact, without permission to eat certain foods, and exposed to diseases during winter or animal attacks during all year, not to mention the psychological impact of isolation.
The "chaupadi" was outlawed in 2015 but still persists in western Nepal, particularly on the border with India. In this region there have been several deaths in recent weeks, now under investigation by the Nepalese Parliament, despite the heavy penalties in force against this tradition, ranging from the fine to three months in prison.
The last of these deaths occurred this month, when the young Parbati Buddha Rawat, 21, died asphyxiated in the province of Acham after lighting a fire to keep warm inside a practically sealed cabin. After knowing the death, the Nepalese Ministry of Interior has decided to tighten the restrictions with a new campaign of warnings and the threat of withdrawal of social benefits.
The Ministry spokesman, Kedar Nath Sharma, has confirmed that all local officials, including prosecutors and police chiefs, of the 19 provinces where this tradition still exists to launch an awareness campaign on both the illegality of this practice on the penalties behaves
"And, for the moment, the charity is over and the pensions are over wherever it occurs, not to mention that we are going to tear down these cabins to end this practice from their roots. And if they still insist, we will launch new legal reprisals," he warned. the spokesperson.
In the municipality of Sanfebagar, where the young woman died, the authorities have already demolished the cabin with the approval of the population, as reported by its mayor, Kul Bahadur Kunwar. In addition, the brother-in-law of the young woman has been arrested for ruling her exile, in what is the first arrest in this regard related to this practice.
However, the deaths of a teenager and a young mother and their young children remain at the beginning of the year in two similar incidents, pending the conclusions of the parliamentary investigation.
Recent studies number 250 young women between 14 and 19 years forced to submit to this tradition in provinces such as Karnali despite the ban, unable to nullify the superstition reigning in the most remote areas of the country over the false "impurity" that affects Women during the period.
"We need a constant campaign to root out this misconception," says activist Radha Paudel, who escaped from her home at age 14 for fear of this banishment. "Otherwise, women will continue to suffer from this practice," he warned.