Neighbours star denies sexual misconduct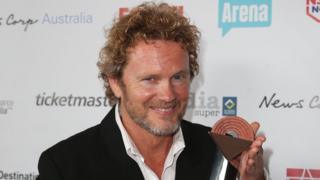 Australian actor Craig McLachlan has denied allegations of sexual misconduct made against him by three women.
The accusations against McLachlan, 52, concern his time performing in a 2014 Australian production of Rocky Horror Show, local media reported.
Three cast members said incidents happened both on and off stage. They accused the former Neighbours actor of inappropriate touching and harassment.
McLachlan has rejected all the allegations as "entirely false".
"Frankly, they seem to be simple inventions, perhaps made for financial reasons, perhaps to gain notoriety," he wrote in response to allegations published by the Australian Broadcasting Corp.
The actresses, Christie Whelan Browne, Erika Heynatz and Angela Scundi, said they had come forward to protect other cast members. McLachlan is currently reprising his role as Dr Frank N. Furter in Adelaide.
The allegations, also published by Fairfax Media on Monday, include that McLachlan pulled aside Whelan Browne's underwear during a performance and kissed her buttock.
"I think people who know him know that he's very generous, warm, funny… I saw a very different side come out in him which was terrifying," she told the ABC.
Heynatz, who played Magenta, said she was forcibly kissed by the actor, while Scundi, a chorus member, said she was the subject of unwanted sexual advances.
Two actresses raised concerns with the show's senior producers but no action was taken, the reports said.
Police told the BBC they were "investigating allegations of sexual offences dating back to 2014", but would not give further details.
The musical's production company, Gordon Frost Organisation, declined to comment.
McLachlan is a veteran of the Australian entertainment industry, having won Australia's top television award – the Gold Logie – and starred in programmes including Home and Away and the Doctor Blake Mysteries.