NATO supports the version that Iran shot down the Ukrainian plane and insists on a transparent investigation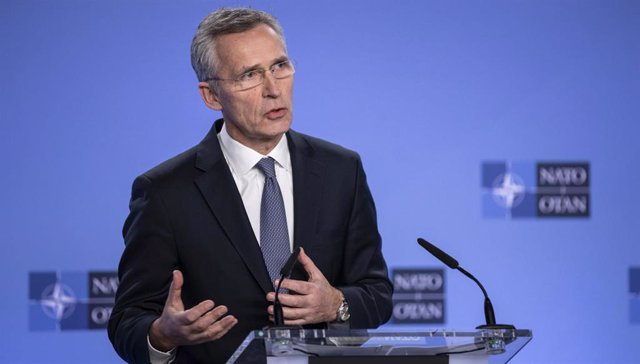 Jens Stoltenberg, NATO Secretary General – – / NATO / dpa
BRUSSELS, Jan. 10 (EUROPE PRESS) –
The NATO secretary general, Jens Stoltenberg, has given truth to the information of the US, Canadian and British Intelligence that the aircraft damaged in Iran on Tuesday was shot down by a missile launched by mistake by the Iranian Revolutionary Guard.
"We have no reason not to believe the information of different allies. They have indicated their concern because their information shows that the plane was shot down by Iranian security systems," Stoltenberg said upon his arrival at the EU's Extraordinary Foreign Affairs Summit, convened precisely so that the member countries share their vision on the crisis in the Middle East and that it will count on their intervention.
Given this, Stoltenberg insists that a "transparent" investigation should be launched to establish the facts and calls on Iran to participate in it. "It is important that we have cooperation from the Iranian side," he said.
Amidst the tension experienced these days in the Middle East, the Alliance leader has explained that the mission of training local Iraqi forces will seek to resume "as soon as possible", warning that the fight against the Islamic State is not over.
"Now the conditions on the ground do not allow us to maintain the mission, but we must understand that the fight against the Islamic State is not over, that it can return and the best way to fight terrorism is to train local forces," he said. .
In turn, on the request of the president of the United States, Donald Trump, that the Alliance be more involved in the Middle East, he has commented that he is studying how the fight against international terrorism can be increased, since it means a "threat to everybody".
However, he stressed that NATO has many resources and tools ranging from military operations to diplomatic efforts, and has given examples of missions in Afghanistan or Iraq or cooperation with Tunisia or Jordan. Although he has taken the opportunity to emphasize that the Alliance works in cooperation with the countries of the region and after reaching agreements with governments.
Stoltenberg has reiterated that, in any case, North America and Europe have to remain "together." "We get a lot when we are united, as we have done with the Islamic State, freeing thousands of people and causing them to back off," he said.