NATO leaders reaffirm their commitment to the collective defense clause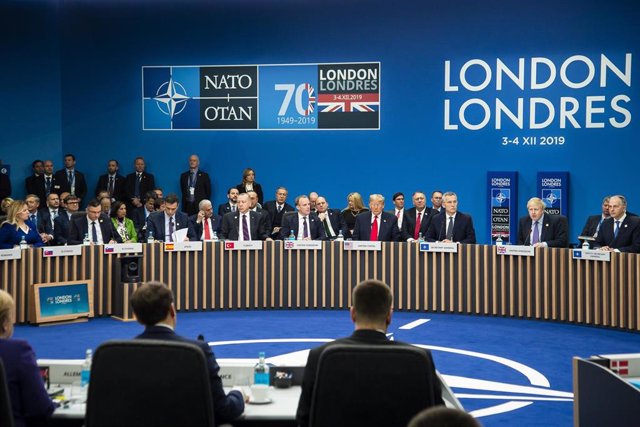 NATO leaders meeting – Jakub Kotian / TASR / dpa
WATFORD (ENGLAND), Dec. 4 (DPA / EP) –
NATO leaders have reaffirmed at the end of the summit their commitment to the collective defense clause, according to which an ally can ask for help from their partners in case they feel attacked, and has opened the door to a "reflection process "about possible reforms.
"We reaffirm the lasting transatlantic link between Europe and North America (…) and our solemn commitment to Article 5 of the Washington Treaty", according to which "an attack against an ally will be considered as an attack against all of us," says the final statement
The meeting was preceded by the open controversy following the criticism of the president of France, Emmanuel Macron, to a NATO that he saw in "brain death." At the summit, the leaders have agreed to open "a process of reflection" to "further strengthen the political dimension" of the block, without going into more detail about it.
They believe that it is necessary to respond both to the "opportunities" and to the "challenges" that represent "the growing influence of China and international policies."
The leaders have also approved new defense plans for Poland and the Baltic countries, although Turkey came to threaten to block these pacts if the other member states did not recognize the terrorist threat that Kurdish militias would represent in northern Syria.
The secretary general of the Alliance, Jens Stoltenberg, has confirmed the agreement in his subsequent appearance, without specifying how they have managed to convince the Turkish president, Recep Tayyip Erdogan. "It is public that we have different opinions on how to designate the YPG," he said, referring to the acronym of the Popular Protection Units.
The issue has been addressed, but not in a "specific" way, according to Stoltenberg, which has confirmed a consensus among all the countries in the bloc to avoid jeopardizing the progress made in recent years in the fight against the Islamic State terrorist group.
On the other hand, NATO has also confirmed progress in the Disposition Initiative, under which allies commit to mobilize forces by land, sea and air in a maximum of 30 days. Stoltenberg has announced commitments to make available to the Alliance within a month "30 battalions, 30 air squadrons and 30 combat ships".