National Poo Museum plans new home on Isle of Wight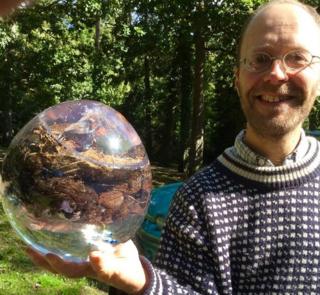 A museum dedicated to excrement is aiming to move to a permanent home on the Isle of Wight.
Currently a mobile attraction, the National Poo Museum features specimens from animals such as elks and lions as well as a human baby.
Directors have launched a £10,000 appeal to renovate the disused Sandown Battery.
They are promising visitors to the new centre will "discover the magic and secrets that live within poo".
The National Poo Museum was created in 2016 by members of the artist collective Eccleston George.
Samples of faeces were gathered from around the world as well as donations received from the Isle of Wight Zoo and Dinosaur Isle museum which were prepared for display using a specially-built drying machine.
Illuminated resin spheres show off the different types of faeces and the display also includes fossilised dung – or coprolites – dating back 140 million years as well as a tawny owl pellet containing bones and teeth.
You might also be interested in:
Dog poo 'yoga move' sign goes viral
Could poo-power light your street?
'Airline poo' confusion in India village
It also covers issues such as dog mess and the lack of access to sanitation in developing countries.
BBC Springwatch presenter Kate Humble has tweeted her backing for the scheme.
Skip Twitter post by @katehumble
The world would be a much poorer place without the National Poo Museum. And we wouldn't have nearly so much fun on #CuriousCreatures (back soon, folks!) so please, I poolitely beg you (!) to support this fantastic institution. https://t.co/Wsx5vlfLSH

— Kate Humble (@katehumble) March 30, 2018
End of Twitter post by @katehumble
The directors of the not-for-profit company are aiming to move into the disused 19th century Sandown battery fort as a "dedicated home" with a museum, cafe and research area.
A crowdfunding website also offers the chance for donors to have their own stools displayed and asks celebrities to consider making a donation to be put on show.
Ian Boyd, from the museum, said: "We want to break the taboo about talking about poo and to create an organisation that is about education, fun and inspiration and making connections around the world that makes a difference to how people think about their own health and the world around them."