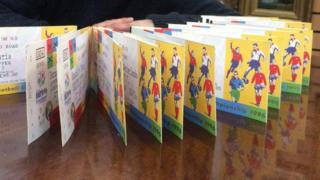 A set of unused tickets for every match of the Euro 96 football championship has been found in an old suitcase.
The tournament, held in England in June 1996, had the slogan "football comes home" and saw the hosts lose to Germany on penalties in the semi-finals.
The 31 tickets include the final and have a face value of £1,680. It remains a mystery why they were not used.
Mystery over unused Euro 96 tickets found in suitcase
The tickets, found among old cigarette cards in Stoke-on-Trent, are set to go on auction in Derbyshire next month.
The owner, who wants to remain anonymous, said he took his grandfather's cards for valuation when he came across the tickets, which had been inside a suitcase his mother had given him 10 years ago.
"It's a complete mystery," he said. "My mum, who died last year at the age of 90, certainly wasn't interested in football.
"I have no idea how they ended up in the suitcase. I don't think my mum was a ticket tout!"
---
You might also like:
---
He believes she might have picked up the tickets at a car boot sale without realising what she had.
An estimate of £100-£150 has placed on the set, which is to be sold on 23 May in Etwall.
Alistair Lofley, football valuer at Hansons Auctioneers, said the owner of the tickets would not have been able to make every game, as some were played at the same time, and speculated the tickets might have been competition prizes.
"For any diehard football fan, to think of these tickets going begging is hard to swallow," he said.
---
When football came home…
Euro 96 was the first major football tournament to be held in England since the 1966 World Cup
Sixteen teams played in eight English cities, including Liverpool, Manchester and Nottingham
England, after a draw against Switzerland, beat Scotland 2-0 and thrashed the Netherlands 4-1
A penalty shoot-out followed in the quarter-final match with Spain
England were then beaten on penalties by Germany, at Wembley, in front of 75,862 people
Germany went on to win the tournament, beating the Czech Republic courtesy of a "golden goal" in extra time
---