'My whole life was turned upside down'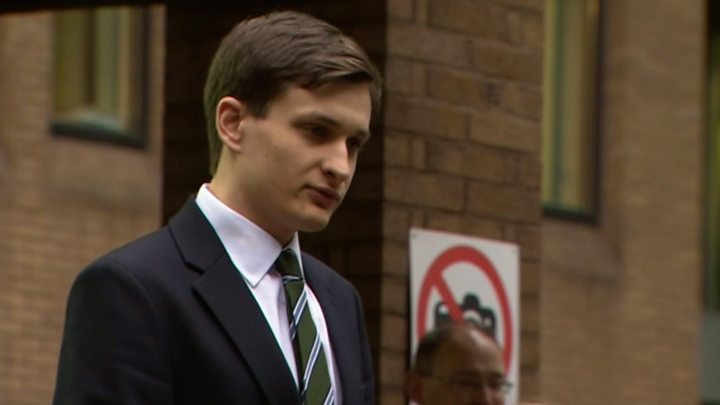 A Conservative MP's chief of staff has been cleared of raping a woman after they had sex in the MP's Westminster office.
Samuel Armstrong, aide to South Thanet MP Craig Mackinlay, said he and the woman had consensual sex after drinking in the Houses of Parliament.
He was found not guilty of two counts of rape and two of sexual assault at Southwark Crown Court.
The jury returned its verdicts after five-and-a-half hours of deliberation.
CCTV captured the aide, from Danbury, Essex, and the woman – a parliamentary worker – dancing in an empty Westminster Hall before they headed off with her holding his arm on the evening of 13 October 2016.
Mr Armstrong said he felt like he had been "punched in the stomach" when he was arrested early the next morning.
His barrister, Sarah Forshaw described him as "earnest, a little geeky, awkward" while Mr Mackinlay, who was not in Westminster that evening, told the court he and his aide were like "father and son".
Speaking at the end of the two-week trial, Mr Armstrong said: "My whole life has been turned upside down.
"For a year now I've not slept or eaten and I was innocent.
"Were it not for the fact that crucial evidence was disclosed to my defence team just eight working days before trial there could well have been yet another miscarriage of justice in this case."
'Way of controlling it'
The court was told the pair kissed as they danced to jazz music in the office, before they had consensual sex – a claim the woman denied.
Mr Armstrong's barrister suggested the woman had panicked after becoming distressed as she tried to leave the Palace of Westminster at about 02:00 GMT.
"When it was over you were not upset with him at all, were you?" Ms Forshaw asked her.
She replied: "Yes, I was completely confused and devastated in the truest sense of that word."
She admitted sending a request to Mr Armstrong to follow him on Twitter in September 2017 but said it was an accident.
The woman said she had given the story to journalists 15 hours after she and Mr Armstrong had sex.
She sent a message to her boyfriend: "Keeping you in the loop. I've given it to Harry Cole who works for the Sun. It will either be in the Mail on Sunday or the Sun front page on Monday."
A later message said: "The media already knew so this is my way of controlling it to ensure I get a sympathetic writer."
'Enormous foolishness'
Mr Armstrong said he had lost his "dream job" and would "never, ever, ever" get his career back.
He said: "It was foolish. It was an act of enormous foolishness and as a consequence I have had the worst year of my life.
"While what I did is foolish, the point is I'm innocent of this and for whatever reason somebody is trying to make a horrible, horrible, horrible allegation."
Skip Twitter post by @cmackinlay
I am very pleased for Sam, a young man whose life has been destroyed over the past 14 months. Debate now needed over anonymity of those accused, especially in a week where actions of the authorities in such cases have been found wanting. https://t.co/tpNlYTCIzM

— Craig Mackinlay MP (@cmackinlay) December 21, 2017
End of Twitter post by @cmackinlay
Mr Mackinlay told the court he was not sure whether the Mr Armstrong "hero-worshipped" him, but said they had a close relationship.
"Given the age difference, I became like – it was almost like father and son, I suppose."
He told jurors they would go for a beer, or out for drinks and dinner with his wife, Kati, when they were working in the MP's Kent constituency office.