'My father turned into a meme'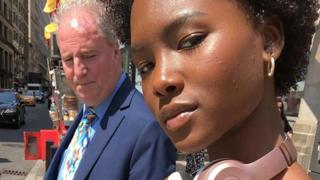 The picture always had the makings of a viral image.
A young woman in yellow pauses to take a selfie. An older man is in the background, seemingly caught eyeing her up.
Thousands of retweets and tens of thousands of likes later, the picture has spread rapidly on Twitter and Instagram. "Whose dad?" commenters joked.
The answer for Alex Leavey, who saw the images on Twitter, was "mine".
"This is me minding my own business," Dominique Robinson posted alongside the picture, using the hashtag #photobomb and asking people to imagine "what this man was thinking".
You might also like:
In comments which have been shared even more widely than the original image – amassing hundreds of thousands of likes and retweets in the process – Ms Leavey detailed the discovery of her dad's newfound digital fame.
"You ever check Twitter and realize your… father has turned into a meme?" the New Yorker tweeted, later apologising on her dad's behalf to Ms Robinson.
Friends, followers and fascinated strangers alike were quick to weigh in.
"I've been ready to… explode for hours about Alex's dad turning into a meme and it's finally revealed," one follower tweeted.
"Wait, is this not your mom?" another asked.
"I wish I was adopted," Ms Leavey joked, posting a number of pictures with her father to prove she was telling the truth.
"I immediately knew it was my dad and was laughing at most of the replies to [the picture]," she told Buzzfeed News.
Dennis, Ms Leavey's father, is blind in one eye. "Looking at the picture, he says he was just looking down," she said.
Whatever the explanation, it is clear the story has prompted much hilarity among social media users, although Ms Leavey's tweets suggest her mum had not yet seen the picture.
After a whirlwind of notifications, mentions and comments, Ms Leavey was keen to emphasise one further important point.
"Just a disclaimer," she tweeted. "I love my dad very much."