Mutiny Festival deaths: Three drug arrests made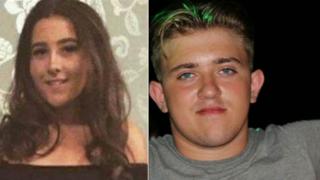 The father of a man who died after collapsing at a dance music festival has described holding his dying son's hand.
Tommy Bakeer, 20, was found collapsed shortly after Georgia Jones, 18, fell ill at Saturday's Mutiny Festival in Portsmouth. Both died in hospital.
Mr Bakeer's father Damian Cowan urged others considering using drugs to "take on board" what had happened to his son.
Three men have been arrested on suspicion of supplying Class A drugs.
Speaking during a visit to the festival site at King George V Playing Fields in Cosham, Mr Cowan described his son's last moments.
'Don't even think about it'
"I was in the hospital when he was fighting, I held his hand and he died. So I guess he wasn't alone," he said.
"It's no good saying 'don't do drugs', all I can say is 'take this on board, look what's happened, if you want to end up that way, carry on'.
"If you don't, don't even think about it."
Georgia Jones fell ill at the event at shortly after 19:00 BST on Saturday. Mr Bakeer was found collapsed about 20 minutes later.
A third person remains in a critical, but stable, condition at the Queen Alexandra Hospital in Portsmouth.
Ms Jones's mother wrote of her grief at losing "her little girl" on Facebook.
Janine Milburn said she hoped her daughter's death would deter others from "taking anything ever".
Hampshire Police said a 20-year-old man from Havant, a 20-year-old from Waterlooville and a 22-year-old man from Cosham remain in police custody.