Murder charges after boy decapitated on waterslide
Caleb Schwab, the son of Kansas Republican state representative Scott Schwab, died at Schlitterbahn Waterpark in Kansas City in August 2016.
He suffered his fatal injury on the park's main attraction Verruckt – which means "insane" in German – after his raft went airborne on the 17-storey high ride.
Jeffrey Henry, 62, co-owner of Texas-based Schlitterbahn Waterparks and Resorts, and Verruckt designer John Schooley have been charged with reckless second-degree murder.
The charge carries a sentence of between nine to 41 years in prison.
Henry & Sons Construction Company, which is described as the private construction company of Schlitterbahn, is charged with the same offence.
According to court documents, Henry is accused of a "spur of the moment" decision in 2012 to build the world's tallest waterslide – with 264 stairs leading to the top – to impress the producers of a Travel Channel show.
His desire to "rush the project" and a lack of expertise caused the company to "skip fundamental steps in the design process", the papers said.
"Not a single engineer was directly involved in Verruckt's dynamic engineering or slide path design."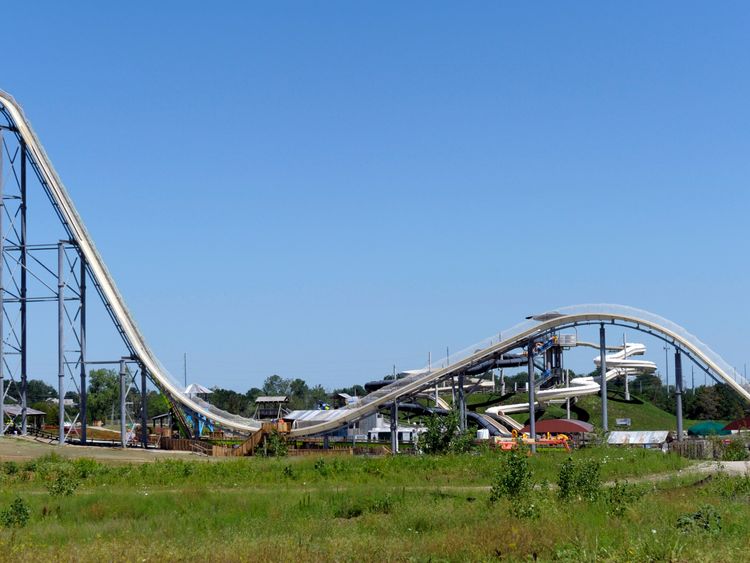 Schooley was responsible for the calculations to determine the physics a passenger would experience on the giant waterslide.
The papers said he lacked the technical expertise to properly design a complex amusement ride such as Verruckt.
Reports of rafts becoming airborne in 2014 were "discredited" by the firm and Henry and Schooley began "secretly testing at night to avoid scrutiny".
In the 182 days Verruckt was in operation, several riders suffered injuries. There were two concussions and a 15-year-old girl went temporarily blind while on the ride, the documents said.
The men are charged with 17 other counts including aggravated battery and aggravated endangerment of a child – related to injuries other riders sustained.
Schlitterbahn Waterpark in Kansas City and Tyler Austin Miles, its former operations manager, were charged with 20 counts last week including involuntary manslaughter in relation to Caleb's death.
Verruckt riders sit in multi-person rafts that begin with a steep drop, followed by a surge up a second hill before a 50ft descent to a pool.
Two women who were in the same raft as the schoolboy suffered serious injuries and settled claims with Schlitterbahn for an undisclosed amount.
Caleb's family reached settlements of nearly $20m (£14.1m) with Schlitterbahn and various companies associated with the design and construction of the waterslide.
"Clearly the issues with Schlitterbahn go far beyond Caleb's incident, and we know the attorney general will take appropriate steps in the interest of public safety," the family said in a statement.
More from Missouri



Guns a major part of the St Louis crime story




Arrests as protest in St Louis turns violent




Protests in St Louis after former police officer is acquitted of murdering black man




Rescuers find body of boy, 4, swept away by Arkansas floodwaters
The firm said: "We as a company and as a family will fight these allegations and have confidence that once the facts are presented it will be clear that what happened on the ride was an unforeseeable accident."
The investigation into Caleb's death has delayed the demolition of the Verruckt which has remained closed since the tragedy.