Murder arrest as mother and daughter die in Gloucester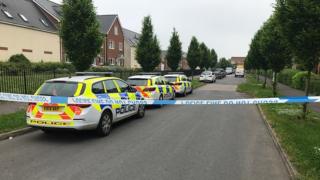 A man has been arrested on suspicion of murdering an 11-year-old girl and her mother.
The bodies of Laura Mortimer, 31, and her daughter Ella Dalby were found when police were called to Dexter Way, Gloucester, at about 04:50 BST.
Officers were called to reports of two people with serious injuries but the pair were declared dead at the scene.
A 28-year-old man has been arrested on suspicion of murder, Gloucestershire Police said.
Dexter Way is a quiet residential street close to the centre of Gloucester sited between the River Severn and a large retail park.
Resident Ruth Kedward said she was "dumb-struck" when she found out about the deaths.
"I couldn't believe it," she said.
It is understood the Ms Mortimer ran her own business, Sweet Beginnings, offering bespoke bridal gowns and wedding planning services.
A wedding photographer based in Gloucestershire, who asked not to be named, said: "Laura was a lovely lady with a kind word for everyone.
"An inspiration to many people not only personally but in the wedding industry too.
"She worked so hard to get where she did and was extremely well respected throughout Gloucestershire and beyond."
Tributes have been paid on Facebook, with one person writing: "Been in so much shock all day and still have no words, I'm absolutely heart broken and keep thinking someone is going to say they got it wrong."
Another said: "Laura and I were good friends and I'm in extreme shock.
"I tell you what I cannot, cannot, cannot believe this. Gutted does not even come close and that beautiful daughter Ella she was Laura's rock…"
Another friend posted: "Fly high you two beautiful angels thoughts are with your family and friends at this awful time."
Police cordons are in place at locations linked to the investigation, a spokesman for the force said.
The nearby Riverside Sports and Leisure Club was also closed for a couple of hours but has since re-opened.
Anyone with any information has been urged to contact police.