Murder arrest after fatal Stockport club crash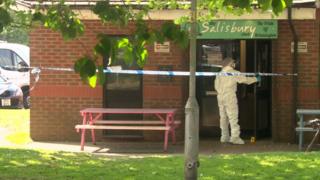 A man has been arrested on suspicion of murder after a car hit a group of people outside a club.
A 30-year-old man died and two others were injured at the Salisbury Club in Truro Avenue, Stockport, at 22:45 BST on Sunday.
The car, believed to be a black Audi A4, was found abandoned in the middle lane of the M60, police said.
A 30-year-old suspect handed himself in at a Manchester police station just before 22:00 BST on Monday night.
The victim died in hospital while two men, aged 31 and 33, suffered minor injuries, police said.
Det Insp Andy Butterworth of Greater Manchester Police said officers were still gathering information "which can help explain this man's last moments and provide his family with the answers they deserve".