Mum wants postnatal depression awareness after dad's suicide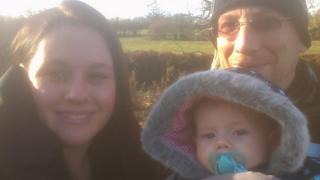 Hugo's mother wants to give him everything. But she cannot give him the thing he wants most in the world – his dad.
John Clayton suffered postnatal depression after his son was born in 2013 and killed himself, aged 41, three years later.
"Hugo asks about where his dad is, even though he knows the answer, and he will say 'I miss my daddy' quite regularly," wife Vicky said.
"It's tough, especially when there are other children around who have their fathers, like my nieces and nephews – it brings it home to him that his dad isn't here anymore."
His little boy, who is now nearly five, has only videos, photographs and a memory box to remind him of his dad.
"As a parent, your natural instinct is to give your child everything they want – but I can't," added Vicky.
"It's devastating. Losing someone like this is something I wouldn't want anyone else to go through."
'Not exclusive to women'
Vicky had support when she suffered postnatal depression but John did not – and that is something she is trying to change.
"It's something that is traditionally associated with women but it's not exclusive to women," said Vicky.
"There's a lot of attention on women when you have a new born baby, and understandably so, but we do need to remember that, in the majority of cases, there are two parents involved and they both may need support."
Hugo was only eight weeks old when his parents, who had married in 2012, moved from Exeter to Cardiff so John could take up a post as a university researcher, to study for a PhD in animal geographies.
"John was not the type to ever lose his temper or get angry," recalled Vicky.
The 38-year-old met her husband-to-be at Cornwall College in 2008.
"He was the kindest and calmest person I had met – until we had our son," she said.
"He had a substantial personality change, he was struggling to the point where he had irrational feelings, was quite withdrawn and not engaging as he normally would.
New life
"He was doing anything other than paying attention to anything in the room, as a kind of escapism from a screaming baby or crying wife.
"Because we had moved to a new city, we didn't have a network of family of friends to pop-in or go down the pub with.
"John was starting university five-days-a-week, with a new baby, in a new area. There was a lot of pressure on him. He found it very difficult.
"I was walking on eggshells all of the time – I didn't know which version of my husband I would walk into.
"Was he going to be happy, distressed, angry or upset – and it would often depend on whether he had been able to sleep, because without that he couldn't function.
"In the end, it had a massive impact on our relationship and it got too much for both of us,"
Good friends
John did seek medical help but the couple separated, as Vicky and Hugo moved back to Exeter.
"It was tough but we still spoke all of the time and remained good friends," said Vicky.
"The main focus was always Hugo – he came first. But it got to the point where he couldn't live with the all-consuming torment and torture of depression anymore."
John was found dead in his house in the Splott area of Cardiff in November 2016.
"He was popular with a great network of friends but he just couldn't bring himself to talk about his problems," said Vicky.
Vicky and her son are being helped by suicide bereavement charity Pete's Dragons through the "most difficult of times".
"Hugo will find it very difficult to process what happened to his dad without the support of professionals," said Alison Jordan, the head of Pete's Dragons.
"And we're here for him and Vicky – and for everyone who has lose a loved one to suicide."
Pete's Dragons run suicide prevention courses to help people spot signs of someone considering ending their own life.
According to The Samaritan's most recent suicide figures, there were 6,639 suicides in the UK and Republic of Ireland in 2015 and the highest suicide rate was for men aged 40-44.
"I hate to generalise but the statistics show men's mental health and the male suicide problem needs to be brought to the fore and more openly discussed," said Vicky.
Awareness posters in B&Q and Screwfix
"People say men should 'Man Up' but we shouldn't treat men this way.
"There should be campaign posters in places visible in places where men frequent; not just in the pub, football stadium and gym but also in B&Q, Plumb Center and Screwfix.
"The helplines need to be put right in front of those men who need it but don't want to admit to anyone they do.
"The stigma needs removing, we've normalised talking about cancer and we need to do the same with suicide and men's mental health.
"I wouldn't want anyone else to go through what we, and Hugo especially, has gone through,"
If you are affected by any issues raised in this piece, help and support is available. Samaritans Cymru can be contacted 24 hours a day, seven days a week, on 116 123 (English) and 0808 164 0123 (Welsh)