M&S food sales slide over Christmas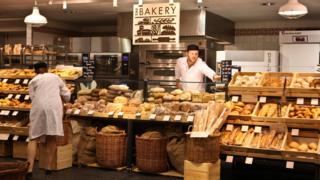 Marks and Spencer sales fell over the key Christmas period, while Tesco reported record festive trade.
M&S said like-for-like revenues fell 1.4% in the 13 weeks to 30 December. Clothing and homeware fell 2.8%, while food, seen as its most successful sector, was down 0.4%.
By contrast, Tesco's UK sales rose 2.3% in the 19 weeks to 6 January.
The supermarket said it enjoyed "record sales and volumes" in the four weeks leading up to Christmas Day.
Shares in M&S fell 5.6%, while Tesco shed 4.8%.
The two trading updates came as other retailers released figures for the Christmas period.
John Lewis said like-for-like sales rose 3.1% for the six weeks to 30 December, while its Waitrose supermarket chain posted a 1.5% rise compared with the same period in 2016.
In other retail news:
Department store House of Fraser said sales in stores for the six weeks to 23 December declined by 2.9%, while online sales were down 7.5% in the period
Online fashion retailer Boohoo said its UK revenues increased 107% in the last four months of 2017
'Underperformance'
All three major retailers alluded to difficulties in the market and tough trading conditions, with Tesco speaking of "inflationary pressures" and M&S referring to "ongoing trading pressures".
Sir Charlie Mayfield, chairman of the John Lewis Partnership, said he expected trading to remain volatile "due to the economic environment and anticipate that competitive intensity will continue".
M&S chief executive Steve Rowe said it had been a "mixed quarter", with "a weak clothing market in October and ongoing underperformance in our food like-for-like sales".
He added: "Our revenue grew both in-store and online over the weeks leading up to Christmas, and we held our full-price stance in a very promotional market and did not participate in Black Friday.
"However, the impact of an unseasonal October resulted in an overall revenue decline."
---
Analysis: Emma Simpson, business correspondent
As ever, the all-important Christmas trading has brought a mixed bag of fortunes for retailers.
Tesco is in the winning camp today with a decent set of figures. On the whole, food sales have done far better than non-food, helped by inflation. Morrisons and Co-op were notable performers. Marks and Spencer, still the UK's biggest clothing retailer, saw sales in fashion and homewares go into reverse again, after positive results the previous year. And it has underperformed in food.
Meanwhile, John Lewis reported very good clothing sales, with strong numbers overall for the department store chain. It's firmly in the winners camp, although its profit margins will take a knock thanks to price matching. And Boohoo, the small but fast-growing online fashion retailer, saw its revenues double over the last four months, with growth the mainstream retailers can only dream of.
What does it all tell us? It's been a tough Christmas quarter overall, far from golden. It's been hard going all year. There are always winners and losers, but the gap between the strongest and weakest players seems to be getting bigger. And the relentless rise of online continues.
---
'Too little, too late'
Bryan Roberts of TCC Global said a last-minute rush for M&S proved "too little, too late to rescue the overall period".
He added: "It is within food that many rivals have closed the gap on M&S in terms of innovation and premium ranges, while also putting M&S's prices in sharp relief. We would like to see a simpler pricing architecture with less reliance on multi-buys."
Meanwhile, Tesco said it was "confident" in its full-year outlook following its performance over Christmas.
Chief executive Dave Lewis said: "We have continued to outperform the market throughout this period, particularly in fresh food, thanks to our most competitive offer for many years."
Natalie Berg, global research director of Planet Retail, told BBC Breakfast that Tesco would never return to its former glory, but had responded well to its difficulties: "The ship has been steadied and they're doing all the right things."